If you read our blog regularly, you are likely aware that mobile devices such as smartphones and tablets play a big role in the field of assistive technology.  The potential of apps on these devices is virtually limitless.  With certain apps and home automation devices already available, users have the ability to unlock their home, adjust their thermostat, and more–either at home or on-the-go!  There are also more educational apps like QuestionIt, which is designed to benefit individuals with learning disabilities, attention issues, autism, and more.
QuestionIt was developed by Language Learning Apps LLC., a company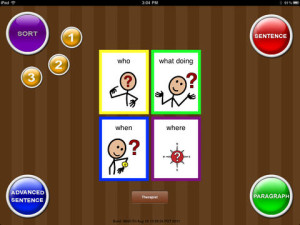 founded by speech-language pathologist Susan Berkowitz.  Berkowitz has over 30 years of experience working with students with language-learning disorders and complex communication needs.  In sum, the QuestionIt app is an educational app designed to help individuals with autism and language issues develop and strengthen language concepts.
In this app, children learn how to categorize words to answer what, when, where and who questions.  It's designed to teach learners how to answer these questions by first learning to match the type of word to the type of question, and then learning to find those words in sentences.  It uses "fading color cues to help learners achieve success as they learn, and reinforces all correct responses with meaningful feedback and fun fireworks."
There is multi-level support as well as picture symbols found within the app to maximize engagement and learning.  QuestionIt also includes a data manager for educators and therapists to record the types of questions and percentage correct for each one.
QuestionIt is available only on the iPad for $19.99.