If you or a loved one are in the market for a video magnifier, it may be overwhelming deciding which one is best for your particular needs.  I've previously covered a couple examples of video magnifiers such as the HumanWare Prodigi and Optelec ClearView C.  Now today I have an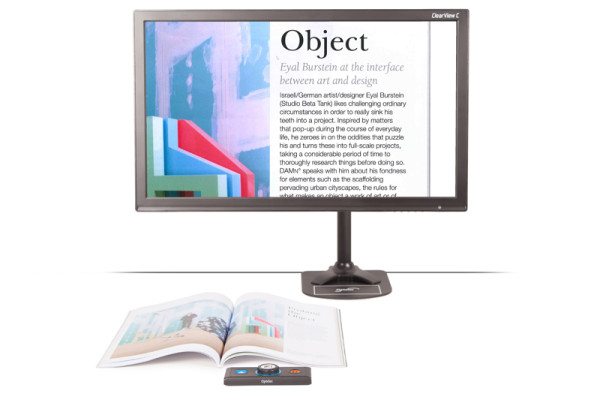 all new, more flexible option called the Optelec ClearView C Flex!
The ClearView C Flex is a unique, flexible video magnifier with the appearance of a standard computer monitor, and can be used at home, office or school.  And because it just looks like a computer monitor, it blends in anywhere!  It's called the ClearView C Flex because of its flexible arm which can be moved in any position.  Another one of ClearView C Flex's benefits is that it keeps your desk free, a feature not often available with desktop video magnifiers.
There are four ClearView C Flex monitors to choose from:
22″ Monitor
24″ Monitor
24″ Speech Monitor
24″ TwinView Monitor
There are also a few camera models of the ClearView C Flex to choose from, each featuring a superior camera offering sharp magnified images in full color and high contrast.  Here are the models available:
Standard Definition models feature sharp magnified images from 4X-75X.
High-Definition models available with a large overview making "reading large documents and magazines a breeze."  They magnify images from 1.5X-75X.
High-Definition Speech is the same as the HD model (magnifying 1.5X-75X) but has the added benefit of speech.  (This camera is only functional with the 24″ Speech Monitor.)
To learn more on the ClearView C Flex or other products for the visually impaired, visit the Optelec website.