For individuals with limited mobility, they may need to use a hands-free device to operate their computers.  There are several options available, such as the Headmouse Extreme or EyeGaze systems.  Another possible solution for these individuals is the SmartNav 4: AT, which is another hands-free mouse!
The SmartNav 4: AT comes with built-in Dwell Clicking Software and a free on-screen keyboard.  The keyboard is the Click-N-Type virtual keyboard developed by Lake Software.  It was designed to provide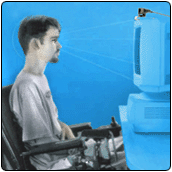 "computer accessibility to anyone with a disability that prevents him or her from typing on a physical computer keyboard."  This virtual keyboard will work for anyone who is able to operate a mouse, trackball, touchscreen or any other pointing device.  It can be used on any computer that operates Windows 95, 98, ME, NT, 2000, XP, Vista, Windows 7 or later.
How does SmartNav work?
The technology of the SmartNav system uses an infrared camera to track one's head movements.  The user then reflects the infrared light back to the SmartNav, which then sends instructions to one's computer to move the mouse cursor.  In order for the head movement to be tracked, the user must place a thin, tiny, reflective dot on the part of the body used to control the cursor.  Common examples include:
Head
Hand
Hat
Glasses
Mic Boom
To use the device, the SmartNav mounts on top of one's monitor, laptop, or communication device facing the user.  It can also be threaded onto a tripod to sit next to a computer.  (In general, the device can be placed anywhere that it can see the reflective dot on the user.)
Once it is installed, less than an inch of head movement is more than enough to move the cursor across the entire screen.  (This feature is adjustable in the software's speed settings.)  The device has a 45° field of view and is recommended to be placed about 2 feet from the user's head.
What sets SmartNav apart from other head-tracking devices?
According to the product's website, SmartNav is the "fastest system on the market and the most adaptable to the users needs."
Speed: "The cursor position is updated at 100 frames per second, resulting in precise cursor placement with real-time response."
Lighting conditions: "Sunlight resistance and tracking technology allow the system to be used in almost any lighting environment.  Sunlight is not a problem."
Resolution: "A high resolution image (1280×480) allows for pixel accurate pointing and control that feels like a laser pointer."
Software: "SmartNav is the only head tracking system with software allowing for full configuration and adaptability of the device."
To learn more about the device, click here.