Last week I covered the HeadMouse Extreme, which is a device that allows users to control their computers and AAC devices via head movements.   The EyeGaze Foundations is comparable to the HeadMouse by the fact that it is a substitute for a standard mouse.  However, instead of controlling computers via head movement, EyeGaze allows users to control computers with their eyes!
The EyeGaze Foundations is a package providing everything users need to begin using eye gaze access.  The bundle includes myGaze® Eye Tracker,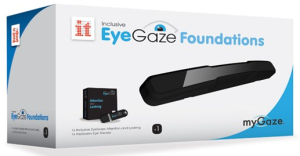 which is an affordable, assistive gaze technology for a myriad of individuals.  The bundle also includes software with fun and meaningful activities that can be used with anyone trying their first steps with eye gaze.  According to EnableMart, "They provide a progression of skills from experimental/cause and effect to targeting, ensuring early success and effective teaching."
The EyeGaze Foundations bundle has been specifically designed to meet the needs of students with physical disabilities, cerebral palsy, intellectual disabilities, visual impairment, autism, and communication difficulties.
6 Benefits of EyeGaze Foundations:
Easy-to-use

No training required.
3-step process takes seconds to set up.

Universal

myGaze® system works with any assistive software

Progression

18 carefully graded activities designed to assess and teach early eye gaze skills

Analysis

Powerful real-time video, heat map and line trace recording and printable reporting.

Portable

Easily transported between computers at home or at school.

Affordable

High-quality and low-cost for families and schools.
To learn more on the EyeGaze Foundations bundle, click here.