Looking for an app to help teach your child American Sign Language (ASL)?  Check out ASL Kids — Sign Language, a free app available for both iOS and Android devices.  According to the app's description, children learn best "by imitating other kids" so within the app, ASL is taught by children ages 1-12.
ASL Kids was created when the developers found out their son had hearing loss.  "When we found out our son had hearing loss, our whole family was eager to learn sign language.  That was when we discovered that our kids benefited from interactive visual material.  However, it was hard to find suitable apps on signing specifically designed for kids.  The next thing we knew, we had decided to design one ourselves."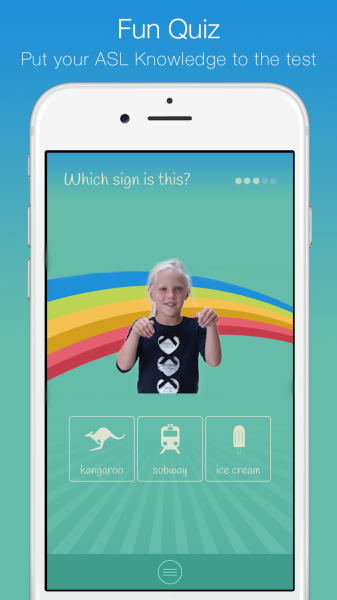 Unlike similar apps, ASL Kids is child-friendly and can be used without the guidance of an adult.  It is designed to teach individuals ages 1-11, but can be used by any child or adult wanting to learn American Sign Language.
ASL Kids App Features:
Intuitive interface: no need to read, clear tappable pictures
Simple menu and buttons for easy browsing
Basic signs

Carefully selected signs which are easy for children to master

No ads or external links

No internet connection required after downloading.

Quality videos

Videos teaching different signs can be replayed by tapping them

Audio

Press a separate audio button to hear how a word is pronounced.

Optional package of 50 more signs is available (via in-app purchase)
To learn more about ASL Kids — Sign Language, check it out on iTunes or Google Play.