"Empathy is the lens by which we measure and respond to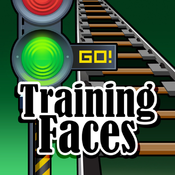 others' emotions, expressions, and feelings."  However, for individuals with autism, it is difficult for them to understand the emotional and mental states of others.  There are many resources available to help teach empathy; resources can be as complex as a robot or as common and "simple" as an app.  Though I've covered several empathy-teaching apps before, I've yet to discuss "Training Faces."
According to its description on the Educational App Store, "The methodology of the app is based on tried and tested methods of practice and facial recognition done via pictures in person/in-class training."  The app takes the benefits of these methods and packs them into a mobile app, so individuals can practice anytime, anywhere.
Features of Training Faces:
Offers a demo version explaining exactly how easy it is to use
Presents 9 emotional expressions:

Sad
Happy
Afraid
Angry
Excited
Confused
Sick
Tired
Silly

Each emotion features 4 games (or levels)
Fun train themed
The user's mission is to tap the faces that have the expression listed
Points are earned when children select the correct expression in the shortest amount of time
Each new level explains why each person feels the way they do; this helps individuals better understand emotions

e.g. "Kim is happy about seeing her friends today!"
To learn more, visit Training Faces on iTunes.
Interested in finding more empathy-teaching apps?  Check out my list  of more apps here!