Searching for an educational app full of games and flashcards to help study reading, spelling, and more?  Check out Bitsboard by Innovative Investments Limited!  Bitsboard allows users to study "almost anything for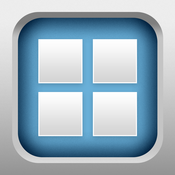 free across 25 addictive mini-games in one app."
You can download Bitsboard for free with limited features, or go ahead and get the full benefits with Bitsboard Pro (currently $19.99 on App Store)!  If you're deciding on if you want to do Bitsboard or Bitsboard Pro, here are the listed differences between the two:
Pro allows you to add multiple users
Pro includes import/export of boards via Dropbox
Pro includes web image search
Pro offers bulk discounts for schools
Pro comes with faster and more responsive email support
Pro gets updated faster and more frequently than free app
Many reviews of the app are similar to: "By far the best educational app!  A must have for any parent, teacher, or student!"  It is also noted to be in the Top 5 of Educational Games in the US App Store.  Let's break down the app's features that set this apart from other educational apps, shall we?
Features of Bitsboard Pro:
Tracks each user's progress:

The app keeps track of every answer for every game, user and board.

Supports multiple users:

It is simple to add multiple users and switch between user accounts
You can instantly review the detailed progress for each user
Automatically saves game settings at user level

Accessibility options:

Fully supports switch control to make all of the games accessible for individuals with disabilities
Includes an option to increase contrast to make games/fonts easier to see for those with visual impairments

Organize your boards:

You can now group boards by collection
Each board can fit into as many collections as you like
Organize boards by class, user, subject, and more

Accelerate learning:

The app's learning algorithm automatically personalizes each game based on each player's skills
It knows the words each user struggles with, and when that user is ready to move on to the next challenge

Share and sync content across devices:

With Bitsboard, users can share and sync custom lessons across devices with just one click

Bitsboard Classes:

With Bitsboard Classes, you can share your content with other users/students on other devices
Classes are private, so only you and the students you approve see your shared content
New content is automatically downloaded by all of your students and always stays in sync.
To learn more about Bitsboard/Pro, check it out on the App Store now!