When I got my first smartphone back in 2009, I immediately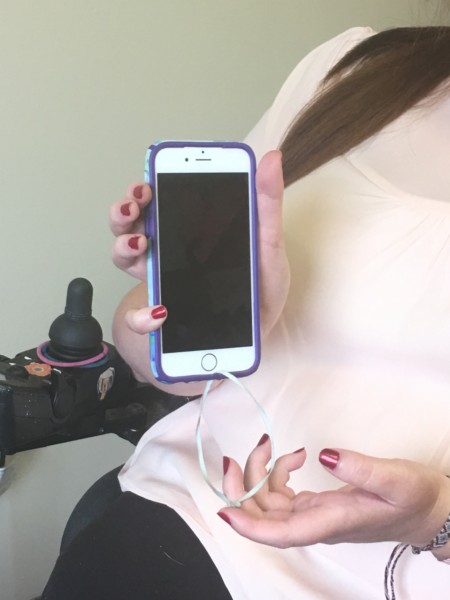 had to place it in inside of a case.  I didn't have a good record keeping my previous phones in good shape (there wasn't enough duct tape to keep them in tact.)  Having the iPhone was no exception to my clumsiness; I continued to drop it day after day even in a rubber grippy case.  Though the case protected the phone, I still needed something to put on the case so it was a) easier to hold and b) easier to pick up from the ground using a grabber.  I ended up tying a ribbon to the case (as demonstrated in the image on the left).  This works wonders, trust me, but after so long, the ribbon stretches the case out and eventually rips it.  (Sniffle.)  The developers behind the Loopy Case have provided an ingenious solution.
The Loopy Cases were developed by three brothers from Indiana and Purdue Universities.  They've been designing the Loopy design for almost 3 years.  "With winnings from IU and Purdue competitions, we were able to secure our patent and get prototypes rolling!"
The goal behind the case is to provide smartphone users with a way to protect their phones, and also make them easier to hold in the first place.  Most importantly, in my opinion, they wanted to accomplish this without adding bulk.
Features of the Loopy Case:
StoptheDrop™:

Loopy makes it hard to drop your phone

Reach/One-handed Use:

If you have an iPhone 6 or iPhone 6 Plus, you know how difficult it can be to use phone with one hand. Because this case provides a loop to help you balance, "Loopy allows you to reach every square inch of your phone with ease."

Multi-grasp:

"Who isn't always carrying a million things at once?  Simply flip, grab and go.  You don't know how nice having an extra hand is until you're in the loop!"

Comfortable:

"Loopy holds you instead of the other way around, making your phone extremely comfortable to use.  We've even designed Loopy with a slightly angled loop for maximum comfort."

Pocket friendly:

If your phone fits into your pocket, so will Loopy.

Secure:

"Loops are tested for up to 10+ pounds of tug!  Your phone weighs less than a pound so… your phone isn't going anywhere."

Doubles as Kickstand:

How often do you try to prop your phone against an object so you can easily watch videos hands-free?  The Loopy doubles as a kickstand, making it easier to sit back and watch videos.

Interchangeable Loops:

You can customize your case with endless possibilities of Loops.
To learn more about the Loopy Case, click here!