The team behind Duolingo, the most downloaded educational app in the world, has recently released Tinycards.  Tinycards is an app that allows users to "memorize anything while playing a game."  The app allows users to choose from thousands of educational topics, and also offers the ability to create their own!  Best part?  It's completely free!
What's it all about?
Tinycards is the future of flashcards.  According to the website, "Millions of people use flashcards every day to memorize things.  We turned the experience into a game where you have fun unlocking new levels and keeping your memory strength bar full!"  It's designed to help children focus and stay on task, unlike other studying resources.
Amy Barry from BridgingApps was recently interviewed by Wade Wingler on an episode of Assistive Technology Update.  BridgingApps' motto sums up the company's mission: "Bridging the gap between technology and people with disabilities."  Upon visiting the BridgingApps website, you'll find many helpful reviews on apps and several other resources to benefit individuals with disabilities, as well as their caregivers.  During her interview with Wade, Amy provided a brief summary of the Tinycards app: "Tinycards is an awesome new flashcard app, great for typically developing students, and also users diagnosed with learning disabilities…A modern twist on the traditional flashcards, Tinycards is specifically designed to help kids focus, stay on task, and help with processing written information."
Getting Started on the Tinycards App:
It's easy to begin using the app.  Simply set up an account with your email, and choose from the 11 categories you think you may need to practice.  The general subjects when you first login include foreign languages, science, history, math, and much more.  Once you're logged in, you'll be taken to a "Trending" stream of topics which feature favorite decks from around the globe.  Or, on the righthand side, you'll notice the option, "Your Stream."  Here, you'll find Tinycard decks related to your selected topics.
Here's an example of what my Stream looks like after selecting TinyScience and TinyHistory: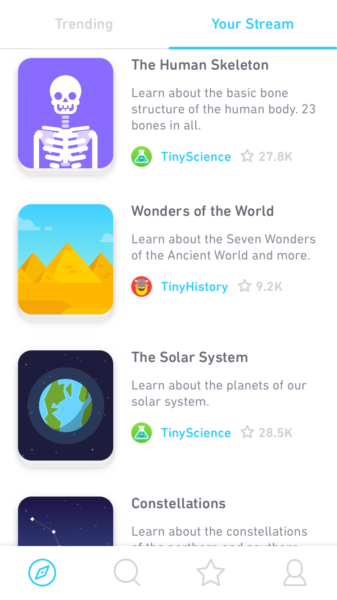 Quick side note: I just planned on taking a screenshot for the purpose of this blog, but I began playing my TinyHistory selections and got lost in playing and memorizing!  It is so fun!
How to Play:
Once you select your deck, you'll be presented with two options: lessons and cards.  I automatically dove right into the lessons, but it may be wise to familiarize yourself with the cards first.  Once you begin a lesson, you'll be shown a card.  Simply tap the card and it'll flip over with information.  Once you study that card, swipe left and the next card will appear.  After two cards, you're shown one of the cards you just studied.  You'll be provided 2-3 options (depending on the deck).  Select the correct answer.  As you progress through each lesson, the cards will get increasingly more difficult.
The app is available for iOS devices and is 100% free to download and use.
To see the full review from BridgingApps click here.