Welcome to Part 3 of our Holiday Gift Guide! Be sure to check out the first two installments, featuring toys that help with auditory development and those that help practice motor skills. This week we'll focus on toys that assist children with disabilities by encouraging language skills.
As before we'll focus on lower-cost items ($40 or less) so as not to highlight out-of-reach items. Stay tuned for more gift ideas in coming blogs!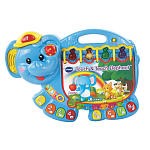 $17.99
Ages 12 months to 3 years
Create your own tall tales and go on fun adventures with the VTech Touch & Teach Elephant. Start by learning letters, shapes, numbers and more with the storybook pages. You can interact with the story by pressing the four light-up buttons. You can explore animals and numbers by pushing the appropriate buttons. Spin the roller ball on the elephant's trunk to hear funny sound effects. With over 150 songs, melodies, sounds and phrases, what story can you come up with?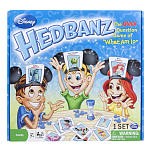 $17.99
Ages 7 years and up
Disney Hedbanz is the goofy board game where you have to ask questions to figure out who or what you are. Ask your friends "Yes" or "No" questions to find out if the cartoon on your head is a character or object from your favorite Disney movies. Everybody in the room knows but you! Headbanz brings people together for hilarious fun and encourages language skill development through human interactions. It is recommended for 2 to 6 players, ages 7 and up.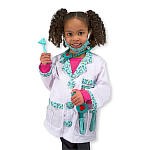 $29.99
Ages 3 years and up
Look the part, be the part. Purchase the Medical Doctor Role Play Set and be sure your little doctor is fully equipped with a lab coat, facemask, stethoscope (with sound effects), reflex hammer, ear scope, syringe and name tag. Sit back and watch your child develop language skills while diagnosing, treating and curing whatever ailments she or he can dream of. Who says you have to go to medical school to be a doctor?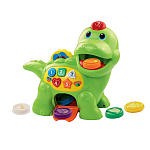 $19.99
Ages 12 months to 3 years
Everyone loves dinosaurs. Get your kid the Chomp and Count Dino for Christmas and help their language skills grow. Feed the dino a play piece and watch him eat and recognize each individual piece. He will respond with appreciative noises while introducing colors, numbers, shapes and food. Then the dino will ask questions about those topics and give your kid the opportunity to show what she or he has learned. The Chomp and Count Dino features over 130 songs, melodies, sounds and phrases.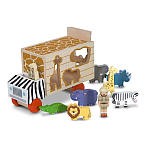 $19.99
Ages 2 years and up
Does your little one fancy herself or himself a park ranger? The Melissa & Doug Animal Rescue Shape-Sorting Truck is the perfect toy for a curious child. The truck is dotted with alligator, zebra, rhinoceros, elephant, giraffe, hippopotamus and lion-shaped holes to fill with the corresponding animal pieces. The Animal Rescue Shape-Sorting Truck is great preparation for the next family visit to your local zoo. Your child will call out animals left and right. Learning the names of animals is a fun part of developing language skills for kids.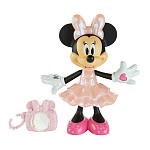 $24.99
Ages 2 years and up
What does Minnie want to wear? Touch her outfit and she'll let you know. Press the heart-shaped button in the palm of her hand to activate and use isolated finger movements to change the color of her clothing. Her bow changes colors too. Minnie speaks the colors as they change to reinforce color recognition and identification. When the Cyndi Lauper hit, "True Colors," comes on kids can practice vocalizing the sounds needed for communication as they sing along.