It's nothing out of the ordinary for individuals to stop by a grocery store at least once a week.  If they need eggs, milk, or bread, they can simply drive to the local drugstore on their way home from work.  For the more extensive list of groceries, they'll simply grab a cart and peruse every aisle in their local convenience stores.  However, something as "simple" as picking up milk is anything but convenient for several individuals.
A couple years ago, our very own Nikol Prieto addressed a few options available for individuals who need groceries and other items delivered to their door.  I thought it'd be helpful to revisit some of these, as well as introduce you to more options!
4 Grocery Delivery Services
The following list is comprised of four services that deliver grocery items directly to your door.  Each has minimum order requirements and available items vary on delivery location and the individual delivery business.
If you do not live within the service areas of the following businesses, you'll be able to find a link to contact each business for future inquiries.
Peapod was founded in 1989 in Illinois by Andrew and Thomas Parkinson.  Over the past 28 years, it has "grown from a small, family-run shopping and delivery service in Illinois to America's leading Internet grocer, delivering more than 23 million orders across 24 US markets."
Click here to see if you live in a Peapod service area.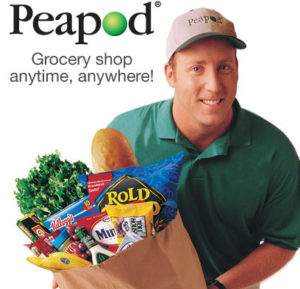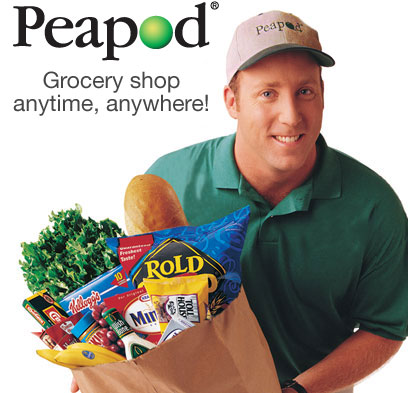 Quick Facts:
Minimum order of $60
Schedule for next day or two week delivery
Unattended delivery available if you're not home

Must check UNATTENDED time slot; not available in all areas

Payments are not accepted in cash, but they accept just about every other form of payment:

Peapod Direct Check, their electronic payment method
Peapod gift card
Credit cards: Discover, Visa, MasterCard and American Express
ATM Cards/Bank Debit Cards with Visa or MasterCard logo

What you can get:

Fresh produce, prime quality meats and seafood
Thousands of Natural and Organic choices
Health and beauty products, pet care, household products, and paper goods
Meal kits and fresh prepared entrees which are ready to cook and heat
And more!

100% satisfaction guaranteed
Bonus!  Peapod's Accessibility Policy is linked at the bottom of website.  You can also view the website in high-contrast by toggling the switch at bottom right!
Instacart is a grocery delivery service that connects you with Personal Shoppers in your area.  These Personal Shoppers will pick up and deliver your groceries from your favorite local stores.
The stores vary by area, but many include Whole Foods Market, Costco, etc.  To begin shopping, you can select the desired store and browse.
Click here to see if your business or residence is within an Instacart service area.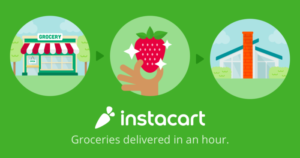 Quick Facts:
Minimum $10 order
Can schedule delivery for as little as an hour and up to 6 days in advance
Currently accepts all major US credit and debit cards, Android Pay, and Apple Pay
Items available for delivery depend on the selected store, but generally include produce, meats, pet care items, beauty and health products, etc.
If you love eating healthy and more locally, check out Green BEAN Delivery.  Green BEAN Delivery is a "dynamic food company that takes a multi-faceted approach to building local food systems."  The company's goal is to "make healthy and sustainably-grown local food affordable, accessible, and convenient to the Midwest communities we serve."
Because Green BEAN works with farmers and local suppliers, it is only available in the following Midwestern states: Missouri, Illinois, Indiana, Ohio, Kentucky and Tennessee.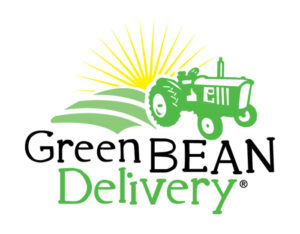 Quick Facts:
Minimum order depends on type of bin subscription you select:

Classic Bin requires $35 of produce to be eligible for free delivery
U-Pick Bin requires $50 of any produce or groceries to qualify

Deliveries are made between Tuesday through Friday from noon until 8 p.m.

Your address determines your delivery date;
Green BEAN cannot guarantee specific delivery time, and delivery times may vary from week to week.

Accepted forms of payment:

Visa
MasterCard
Discover
American Express

Green BEAN Delivery offers several options of organic vegetables and fruits.  Some other grocery items are available, depending on week and location.
If you haven't already experienced the convenience that is Amazon, go ahead and do so.  You can find virtually any item you'd need and have it shipped directly to your door!  If you're an Amazon Prime member, you can receive free 2-day shipping on eligible orders.
What could possibly be better than that?  Amazon Prime Now!  Prime Now is a benefit of Amazon Prime that allows members to place orders for fast, same-day delivery via the Prime Now app (iOS phones, Android phones, and Fire devices), Alexa devices, or through Primenow.com.
Check the list found here to see if your city and ZIP code are within Amazon Prime Now service area.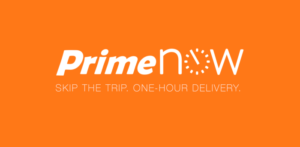 Quick Facts:
*Please note: Prime Now is a benefit for Amazon Prime members, which requires paid membership.  Once you're a member, you'll be able to enjoy many benefits.
There are two different delivery options for orders fulfilled by Amazon Prime Now and sellers:

Free delivery in a 2-hour window and delivery within 1 hour for $7.99 per order.
The 1-hour delivery option is available in select areas, but 2-hour option is available in all service areas.

Deliveries can begin as early as 8 a.m. in select cities and run as late as midnight.  (Delivery availability varies on location.)
Accepts several forms of payment:

Visa
MasterCard
American Express
Discover
Prepaid gift card with any of the above endorsements
Amazon.com Gift Cards (cannot be used on tips, Amazon Restaurant orders, or alcohol products.)