Assistive technology can make things more convenient for some, but for others it makes things possible!  Smart devices have indubitably helped thousands of individuals with special needs communicate, control switches, and so much more.  However, some individuals with upper-body mobility impairments aren't able to operate their smart device(s) independently.  This is where the Tecla Shield comes in.
Even though it's been around for a few years, I feel the Tecla Shield is as relevant today as it was years ago.  According to their website, "Tecla is an assistive device that gives people with upper-body mobility impairments the ability to fully access smart devices and technology – at a fraction of the cost of traditional assistive devices."
Individuals with spinal cord injuries, multiple sclerosis, ALS, muscular dystrophy, brain injuries, stroke, and more may benefit from the Tecla Shield.  In sum, it is a hands-free solution that can grant these individuals independent access to their devices.
You may be wondering, "How on earth does this work?!"  Well, first, instead of operating the device directly, Tecla utilizes Bluetooth technology which then allows users to operate their devices using the following means:
Assistive button switches
Sip-and-puff controllers
Head arrays
Joysticks
Driving controls of a wheelchair
The Tecla Shield can be purchased independently, but if you're looking to mount it on your wheelchair, check out the Tecla Wheelchair Kit.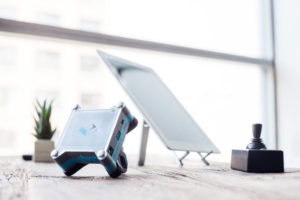 Tecla Wheelchair Kit:
The Wheelchair Kit is an ideal solution for users looking to control their smart device(s) from their wheelchair.  The Kit includes:
Tecla Shield:

The Shield makes it possible to operate iOS and Android smart devices, as well as computers, directly from the powered wheelchair's driving controls.

Tecla Mount:

The Tecla Mount is for those "seeking hassle-free installation, mounting, and recharging of their Tecla Shield.  It can secure the Shield to a bed, wheelchair, desk, or any tubular or flat surface that's up to 1.4 inches thick."

Tecla Phone Mount:

This flexible, quick-release mounting system for a smartphone can be attached to flat surfaces or the tubing of a wheelchair.

Wheelchair Cable:

This cable is what connects to your wheelchair's Environmental Control Unit.

If you're unsure whether your wheelchair has an ECU, contact your chair's manufacturer.
Have questions?  Check out the FAQ page here.
Want to try it out before you buy it?  We have the Tecla Shield available for loan in our Lending Library!
If you simply just want to learn more, head on over to the Tecla website.