At the INDATA Project, we aim to cover a variety of products for individuals of all abilities.  While we've covered gift ideas for those who are blind, hard of hearing, and more, we've yet to offer a list for those who are deaf-blind.  LS&S offers a smorgasbord of products for those with vision and hearing impairments.
More specifically, they have a selection of products for those who are deaf-blind.  I wanted to take time today to cover ten of these items.
10 gift ideas for individuals who are deaf-blind:
The Rubik's Cube is a classic brain teaser that's enjoyed by individuals of all ages.  The traditional Rubik's Cube is solved by scrambling, twisting, and turning it to realign the six matching colors.  This one's unique tactile markings make it a fun gift idea for individuals who are blind.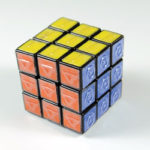 Features:
In addition to colored sides, each side has unique tactile markings for each color (e.g. triangles for orange, circles for blue, etc.)
Entire puzzle can be solved all by touch
Twists and turns just as the traditional Rubik's Cube does!
Doubles as a fun desk fidget
Watches are always an ideal gift idea because everyone needs to know the time!  Unlike many watches available for those with visual impairments, the Meteor Vibrating Pocket Watch offers a discreet way to tell time.  It indicates time using inaudible, unique vibrations.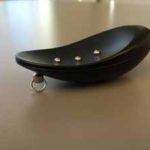 Features:
3 buttons:

Upper button for hours
Central button for tens of minutes
Last button is for minutes

Short vibration indicates 1 unit and a long vibration indicates 5 units.

Examples:

3 short vibrations indicate 3 hours or 30 minutes or 3 minutes depending on pressed button
1 long vibration indicates 5 hours or 50 minutes or 5 minutes depending on button

Batteries will last between 2 and 5 years, depending on usage
Water-resistant but shouldn't be submerged in water
2 year limited warranty from manufacturer
Sudoku is another popular puzzle that's been around for centuries.  With the Braille Sudoku Set, this timeless puzzle can now be enjoyed by those who are blind!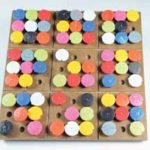 Features:
Wooden playing board has a 9×9 grid with nine 3×3 squares
Braille number pegs which insert easily into the grid
Sudoku Puzzle Book in Braille:

Features 100 Sudoku puzzles and solutions all in Braille
This small, plastic pocket money brailler allows users to easily identify paper money independently.  It conveniently comes on a keychain so users can add braille to any paper money as they receive it!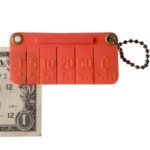 Features:
Can mark $1, $5, $10, $20, $50, and $100 currency
Measures 3 inches long and 1 1/2 inches wide
Labeled in both print and braille so everyone can use it
This is an accessory for the Clarity Alertmaster System.  The Clarity Alertmaster System is designed to notify individuals who are hearing impaired of any activities inside home (e.g. phone or doorbell ringing, baby crying, etc.).  The system comes with a bed shaker, base unit, and wireless doorbell.  This Personal Signaler-Tactile Indicator is a wearable that notifies individuals who are deaf-blind of any activity inside the home.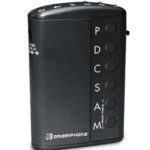 Features:
Compact size fits on a belt
Works up to 80 feet away from the Clarity Alertmaster System transmitter
Vibrates to notify user of an alert
Works with Alertmaster systems including AL10 and AL12
1-year manufacturer's warranty
Has six indicator buttons for each of the alerting functions of the Alertmaster System
The iBill Talking Banknote Identifier can identify all US bills from $1 to $100.  The results can be announced verbally, by tone, or by vibration, making the product ideal for those who are deaf-blind.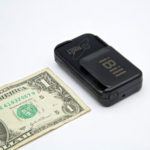 Features:
2nd generation features enhanced volume and recessed buttons to prevent accidental activation
Earphone jack for privacy
Measures 3″ x 1.6″ x 0.7″
Uses 1 AAA battery (included)
Helen is an alarm clock designed specifically for individuals who are deaf-blind.  It was carefully crafted to ensure individuals who are deaf-blind get up on time every morning.  In addition to being an alarm clock, users can also check the time and set reminders on it throughout the day.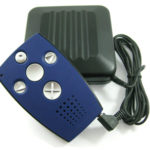 Features:
Approximately the size of a credit card
Comes with external pillow shaker for the heaviest of sleepers
In lieu of traditional watch hands, it uses tactile, large buttons
Efficient vibrations notify user of time, adjustments, and more

This allows the person who is deaf-blind to set the time and create alarms independently
Standard wallets have limited slots so it can be hard to keep one's money organized.  The Money Organizer Wallet helps those with visual impairments keep it all organized!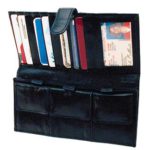 Features:
Four separate compartments to divvy up different dollar amounts (e.g. $1, $5, $10, $20)
There are also three separate change purses
Multiple slots for credit cards
An extra compartment for a slate, checkbook, signature guide, or charge slips
I first introduced the Bradley Tactile Timepiece on Accessibility Minute last January.  It is a unique, elegant watch for individuals with or without sight.  The entire piece was carefully crafted so the wearer could discreetly tell time using only touch!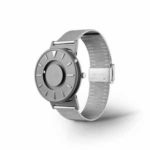 Features:
Unisex design features titanium face and stainless steel mesh band
Distinct tactile markings on face for different hours
Uses two ball bearings to tell time:

One on inside of the face to mark minutes
The other moves on the outside of the case to mark hours

Face measures 1.6″ across
Fits wrists 6¼" to 8½" in circumference
Water/Shock resistant for brief splashes
This is a handy tool for individuals who are deaf-blind.  They simply have to place the device on a cup before filling it with their favorite drink.  The Vibrating Liquid Level Indicator will buzz and vibrate when liquid nears the top of a glass.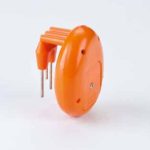 Features:
Measures two different levels of liquid in glass:

Makes intermittent noise/vibration as liquid nears top
Continuously makes noise/vibrates to ensure user is alert as it reaches the top

Pocket-sized so users can take it with them anywhere
Prongs keep it sturdy on multiple types of glasses
Check out the rest of the Deaf-Blind Product selection by clicking here!