We have another addition to our list of fidgets: introducing the Wiggle Seat Inflatable Sensory Cushion!  The Wiggle Seat Cushion by Sensory Solutions is a cost-effective solution to a variety of needs.  Wiggle Seats have grown in popularity for their ability to calm hyperactive children.  They have also been noted to improve overall behavior in children with ADHD and autism.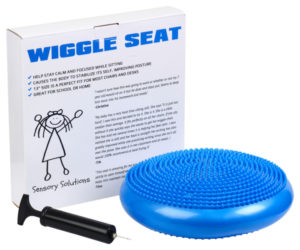 In addition to the overall behavior benefits, Wiggle Seat Cushions offer similar physical benefits of a balance ball.  When individuals sit on a balance ball, they're activating stomach muscles while sitting; this leads to better posture and less back strain from prolonged sitting.
Features of Wiggle Seat Cushion by Sensory Solutions:
Helps children stay calm and focused while sitting
Adjustable inflation level with included pump
Activates intrinsic trunk muscles to encourage active sitting and support the spine
13″ size is ideal for a small child's seat while being big enough to grow with your child
One side of disc has longer, raised nubs while the other has small bumps; this allows two options depending on your child's tactile needs
Great for sitting at home or in the classroom
Available in a variety of colors:

Blue
Green
Orange
Red
Yellow
Purple
Visit Sensory Solutions to learn more!