Looking for a fun timer for your child or student who doesn't yet understand the length of time?  Mouse Timer from LITALICO expresses the length of time using a cute little mouse gnawing on apples.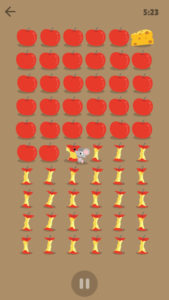 Finding the right timing tool for students can be challenging.  This is especially true for those with autism or others who cannot tolerate loud noises nor the ticking of traditional timers.  Because this app simply features a cute mouse gnawing on apples, it is able to benefit a myriad of individuals.
Additionally, it's an app that allows children to "see" the length of time.  This allows them to better understand the overall concept of time.  Mouse Timer can be used as an educational tool as well as an everyday timer!  It can help individuals completing the following tasks:
Homework
Reading
Eating (for those picky eaters who spend most of their time picking around their food)
Exercising
Chores
And more!
Features of Mouse Timer:
Easy-to-use: simply select a time
Developed by teachers and professors who specialize in children's development and education
Runs in background so users can multitask;

Once time is up, a notification will pop up

App has no advertisements so there are no visual distractions for children
Can be used for free (in-app purchase allows you to select white mouse instead of gray mouse)
Ability to pause and resume the timer
Available on both iTunes and Google Play
Visit the LITALICO Inc. website to learn more.