On Tuesday I introduced the SensaSoft Squeezie Seat from Fun and Function.  The Squeezie Seat allows children to safely move around in a seated position.  Another product available for those who like to wiggle while sitting is the Wobble Chair from Kore Design LLC!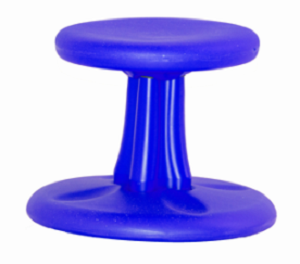 The Wobble Chair is ideal for students with ADHD, autism, or other special needs, who simply feel the need to wiggle while sitting.  It is a "super-safe stool" with a rounded base that allows children to move while they sit.
Features of the Wobble Chair:
"Super-safe stool" features a rounded base that allows users to wiggle – without tipping over!
Features an 11″ diameter seat
Available in multiple heights:

10″ for toddlers
12″ for preschoolers
14″ for young children
18.7″ for teenagers
Grow With Me Chair is adjustable from 15.5″- 21.5″

Comes in an array of colors, depending on the size
Develops balance and core muscles
Simple assembly required
Exercises back, leg, and abdominal areas
Encourages rocking motion

This provides movement input for the vestibular system, which can be calming and organizing for the brain
Click here to learn more about the Kore Wobble Chair!