One of my favorite topics to research and write about are products that promote relaxation and focus.  This includes the world of fidgets, different seating options, and more.  SensaSoft Squeezie Seat from Fun and Function is yet another product that calms and promotes concentration.
The SensaSoft Squeezie Seat is a comfortable chair that "gently squeezes, applying soothing pressure and sensory input through the trunk".  In addition to applying soothing pressure, it also helps align the spine for better posture.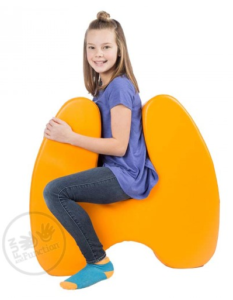 The Squeezie Seat also allows users to safely rock back and forth to support focus.  As stated in my previous blogs on fidgeting, many individuals with ADHD benefit from movement.  Several studies have shown how fidgeting and moving can boost one's concentration and productivity.
Features of SensaSoft Squeezie Seat:
Provides soothing pressure and supports movement
Ideal for those with ADHD, autism, sensory processing disorder and more
For ages five and up (to be used under adult supervision!)
Crafted from highly durable PVC and foam
Weighs 5.7 pounds
Measures: 29″W x 27.5″H x 13″D
Holds up to 100 pounds
Click here to learn more!