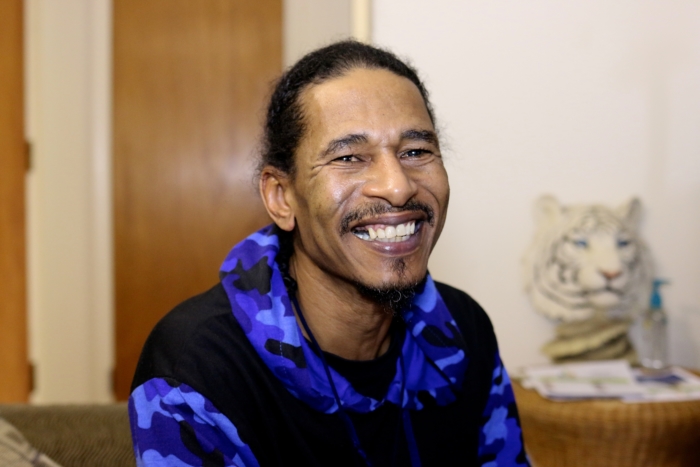 I visited Wade Jackson Sr. to learn about the services he received through Easterseals Crossroads. I learned that in 2009, Wade was working three jobs. One of his jobs was working as a prep cook at Texas Roadhouse restaurant. After he finished the rush hour shift during the Christmas season at Texas Roadhouse, he got in his car and he could not see out of his windshield. He decided to drive to the gas station by looking out of the driver's side window. He told me, " I cleaned the window four times and could not get it cleaned".
The next day he went to his mother's house to celebrate Christmas with his ten sisters and four brothers. He said, " I was sitting at the table and I felt like everyone was looking at me. There was a light over the kitchen table and my sister said, "Don't you see that spider coming down in front of you? You need to have an eye exam."
It was then he first realized that it might have been trouble with his vision, not a dirty windshield in his car, and scheduled an eye exam for the next day at Walmart. During the exam, Wade was told that he had Glaucoma and that the disease was pretty far advanced and he had a lot of fluid pressure in both eyes. Glaucoma is an eye condition that damages the optic nerve. It can cause blindness if untreated.
Wade told me that he had worn steel toe boots into Walmart and as he was leaving with the devastating news that he had Glaucoma his boots set off the security alarm. He said that a security guard took him back into the recovery area because they thought he had stolen the boots. The security guard finally determined that Wade's brand of boots did not come from their store and released him. Wade told me it was a terrible day that he will never forget.
After the vision exam at Walmart, he went to see an eye specialist. He then had three surgeries trying to keep the pressure down in his eyes. Unfortunately, none of the surgeries worked. Wade told me, "All the sight that I have is just through a pin hole." He has now formed cataracts on his pupils that cannot be laser removed because they are afraid that he would loose the last bit of sight that he does have. He has a lot of pain in his eyes. He told me that in addition to daily pain that the weather changes cause him a lot more pain.
Wade told me the hardest thing about losing his vision was losing his license to drive. At the time I met with him, he has not been able to work because he is not able to drive and is in constant pain. When he lost his vision, he visited Vocational Rehabilitation (VR) to find out what resources might be available to him. Vocational Rehabilitation is a state agency that helps people with disabilities obtain or maintain employment.
Vocational Rehabilitation first referred him to Bosma Enterprises to learn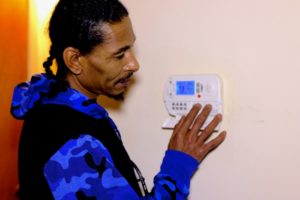 some independent living skills. He learned how to navigate his surroundings and they got him a lot of talking assistive technology devices such as a talking thermostat and a talking clock. VR then referred him to Easterseals Crossroads for an assistive technology evaluation.
An assistive technology evaluation is a one-on-one evaluation to determine the appropriate assistive technology to meet an individual's needs at home, work, or in the community. He was assigned to work with Rebecca Carpenter who is an Assistive Technology Specialist at Easter Seals Crossroads. Rebecca worked with Wade on how to access a computer and written material.
Rebecca said, "I began working with Wade using ZoomText; however, I realized that this tool wasn't the only one he would need so we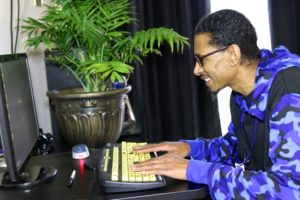 supplemented with NVDA. Wade learned the keystrokes quickly and was excited to be able to correspond electronically to pay his bills. He also owned an iPhone, but was not familiar with the different options available to him, such as VoiceOver. I taught him the gestures and how to use Siri to schedule appointments, give weather information, search the web, et cetera. I think his favorite assistive technology item was the DaVinci CCTV. Watching his face light up as he was able to scan and read his bills without straining his eyes was one of my favorite moments while working with him."
ZoomText is a screen magnification software that enlarges and enhances everything on a computer screen. NVDA is an open source screen reader, which enables blind and visually impaired people to use a computer because it reads the text on the computer screen. DaVinci is a desktop video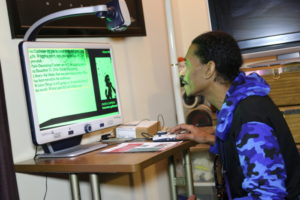 magnifier with an HD screen and text-to-speech device. It allows you to magnify anything put under the camera. Wade told me,  "I was so thankful when Becca brought me the magnifier and installed it. He said, "my mail that I couldn't read had been piling up all over the house and I can now read it with the DaVinci"
Wade told me that all of the assistive technology he has received allows him to live independently. He loves to be able to read his mail independently. He also uses the VoiceOver on his iPhone for "almost everything". He told me, "I couldn't believe I could use my finger to run over the screen and have the apps read to me. I use my phone to do so many things."
Wade also has a PenFriend Voice Labeling System, which is an electronic device that can be programed to read labels that are attached to any item. Wade uses these labels all over his house and then holds the pen over the label to identify the item. He uses them for all the food cans in his kitchen and labels electronics such as his DVD player with different labels on the play, fast forward, and rewind functions.
Not only did Wade have the assistive technology evaluation and training, he also received a computer from The INDATA Project's Computer Reutilization program. This program takes in donated computers and gives them away for free to individuals in the state of Indiana who have a documented disability. Rebecca installed the ZoomText software that Vocational Rehabilitation purchased for Wade on that computer and he now also has the NVDA screen reader on that computer.
Wade said, "Without BOSMA, Easterseals Crossroads, and Vocational Rehabilitation I could not have done anything. I would not have known any of this technology existed. I didn't want to just sit in this apartment and do nothing. I know I have to learn something new that I can do now that I have a visual impairment." He said, " If it wasn't for Becca, I wouldn't have even thought twice about using a computer in this condition and now I am." Wade is looking forward to continuing to learn how to use a computer so he can get comfortable enough to begin job hunting down the road.
I asked Wade if he had any advice for our readers and he told me he would tell people, "Get your eyes checked regularly. I don't' wish this on anyone. It's been really hard." He went on to say, "I would find out what resources are available to you. You don't just have to sit around doing nothing."