Last month I covered the BJOY Ring Joystick Mouse, which is a product that transforms a wheelchair's joystick into a computer mouse.  For users who aren't able to use their hands, an alternative option is the BJOY Chin Mouse.  The BJOY Chin is "the best alternative to use the mouse with your chin."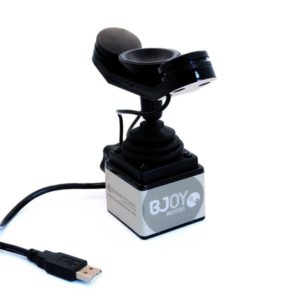 The BJOY Chin provides precise access to a computer using chin and head movements.  Its compact size, button placement, and several mounting options make this mouse a very versatile device.
The device may benefit users with:
Multiple sclerosis
ALS
Neuromuscular disorders
Cerebral palsy
Traumatic brain injury
Spinal cord injuries
And more
The device can be fully configured to each user's unique needs using the BJOY configuration software.
Features of BJOY Chin Mouse:
Plug and play device that is compatible with Windows, MacOS, and Linux
The BJOY software allows users to:

Adjust pointer's speed, sensitivity, and auditory feedback
Easily adapt the device to the user's posture
Decide which of the following actions each button will perform:

Left click
Right click
Drag and drop
Double-click
Nothing

Set required press time
Set drag and drop option as a long press on any button
Configure the joystick to move in 4 or 8 directions to improve access for persons with inexact movements

All settings are saved on the device so individuals can use the mouse on any device