Read&Write for Google Chrome is an add-on that provides "personalized support to make documents, web pages, and common file types in Google Drive more accessible."  Now there is an add-on for Read&Write to make it even more accessible called Snapverter.
Snapverter is a Google Chrome tool that quickly turns any printed material (e.g. classroom papers, textbooks, etc.) into accessible, Google Drive-friendly files.  Transforming these documents into readable PDF files makes the files shareable with students and teachers on any device (e.g. Macs, PCs, tablets, or smartphones).  However, most importantly, it also allows the files to be read aloud using Read&Write, which is an essential assistive tool for individuals of all abilities.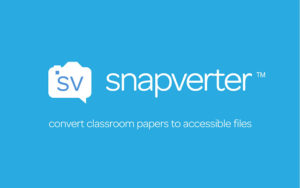 How to use Snapverter:
Users simply snap a picture of any printed document using a smartphone.  They can also select any inaccessible digital file, and save to Snapverter's folder on Google Drive.
Documents then convert to accessible PDF files and stored to user's Google Drive.
Now users can easily share converted documents in Google Drive.
They can also hear text read aloud with highlighting, see words and passages explained, translated, and more using Read&Write for Google Chrome.
Features of Snapverter:
Integrates with Read&Write for Google Chrome to help individuals who struggle reading; ideal tool for ESL/ELL, dyslexia, and other learning disabilities
Uses smart OCR technology to recognize and transform text from worksheets, handouts, books, and other print materials
Integrates embedded charts, images, and diagrams into converted PDF or EPUB files
Users have 10 scans for initial free trial; after that, scans drop to 1 per week
Note: Snapverter purchase requires Read&Write for Google domain or group license subscription.  Visit their website to learn more!