If you're like me, you may think of nothing but old cell phones when you hear the company name Nokia.  You may even ask yourself, "Are they even still around?"  Yes, in fact, they are!  They've made a strong comeback offering a catalog of smart devices for everyday living and tools to promote health.  One of these tools is the Thermo Smart Thermometer, which is a contact-free way to track one's temperature, medication, and more.
Thermo is a fast, simple way to check one's temperature.  It features a large digital display and a color-coded LED indicator light notifying users if their temperature is normal, mild, or high based on the age of the user.  (The indicator will remain green when normal, orange when there's a mild fever, or red when there's a high fever.)
In addition to providing precise temperature measurements, it also pairs with an app.  The app allows users to track temperatures, get reminders, and input related symptoms/medications directly on their smartphone.
We recently purchased the Thermo to try out here at the INDATA Project.  Upon unboxing the thermometer, I assumed I could simply press a button and begin checking my temperature.  However, there are several required steps prior to using the device the first time.  I couldn't find the directions on the website so I thought I'd provide them here.
How to use the Thermo Temporal Thermometer:
Download the Thermo app from Google Play or the App Store
Create an account on the app and sign in
Hold down the button on Thermo device until the display reads SETUP
Make sure your Bluetooth is enabled on phone.  Now device can pair to your phone
Remove silicone cap from device and turn device on
Scan across your forehead

Start in the middle of forehead and move toward your temple in a straight line across your forehead
Thermo will vibrate when measurement is complete
If there are multiple users for the device, you can select which user by sliding down on the righthand side.  Press the button to select the user.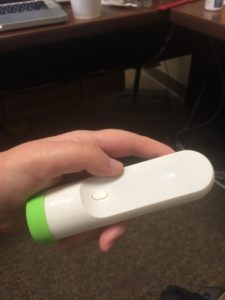 Features of Thermo:
Contact-free measurement means no mess, no germs
16 infrared sensors provide a highly accurate measurement
2-second measurement with instant color-coded fever indicator
Temperature history, measurement reminders and health advice right on your smartphone
Medically-approved thermometer with in-app educational information provided by Boston Children's Hospital
Click here to learn more about the smart thermometer.