Toca Boca offers several fun, kid-safe apps with loads of open-ended play experiences.  The company believes in "the power of play to spark kids' imaginations and help them learn about the world."  They design their products from children's perspective to "empower them to be playful, creative, and to be who they want to be."  One of their products that is perfect for today's festivities is Toca Boo!
Toca Boo introduces children to Bonnie, a little girl whose family loves to scare one another.  She'll quickly show children how to spook the rest of her family:
Children will have fun floating around the house looking for other family members to scare
Hide under tables, duvets, or behind curtains
Search the rooms for family members but stay away from the light or else you'll be seen
Rattle things or turn on the kettle to make other characters nervous
Munch on peppers for an extra hot scare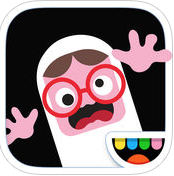 Other Features of Toca Boo:
Children will have fun exploring the large house with 2 floors and 6 rooms
6 different family members to scare
Hidden surprises around the house
Get bigger scares by eating things
Interact with objects in the house
Humorous features include turning on disco music to dance, turning invisible, and different hiding places like toilets
Open-ended play with no rules or stress
Child-friendly interface
No third-party advertising
No in-app purchases
Beautiful, original artwork
Click here to learn more about Toca Boo.
Happy Halloween!