We have covered countless smart home devices over the years.  However, we've yet to discuss a device that could help individuals with special needs get into their garages.  While garage door openers or outdoor keypads may work fine for some, something like Garageio may work even better for others.
Garageio is a simple and secure way to control and monitor your garage door from anywhere.  Unlike traditional garage door openers, Garageio allows users to make sure their garage is closed when they're away, thus providing peace of mind.
Blackbox Specs:
Compatible with almost every garage door opener
Requires WiFi (2.4GHz routers only) and an Android, iPhone/iPod Touch or Blackberry phone for setup
3.2 in x 3.2 in x 1.25 in high-temp enclosure
Mounts to any surface
Currently compatible with North American power (110-130VAC, 60Hz)

They are currently working on European and Australian versions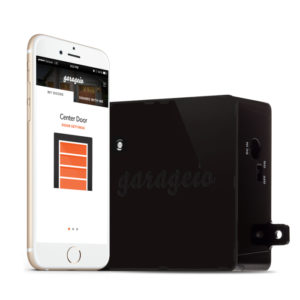 Garageio Features:
The package comes with:

Garageio Blackbox
Power Adapter
Opener Cable
Package of Adhesive-backed Cable Clips
Sensor Cable
Installation Card

Setup is quick and easy and requires no special tools
Open or close your garage door with a single swipe
Receive real-time alerts if your garage door has been left open
Integrates with other smart home products such as Amazon Echo
1-year limited warranty on all hardware
No monthly or activation fees
Available for 1, 2, or 3-door garages
Click here to learn more!