Do you have a problem with your child unbuckling his or her seat belt?  A possible solution to help keep your child safe is the BuckleRoo Seat Belt Guard.  The BuckleRoo is a "simple little device with a great big job: keeping children safe by preventing them from releasing their seat belt while you're driving."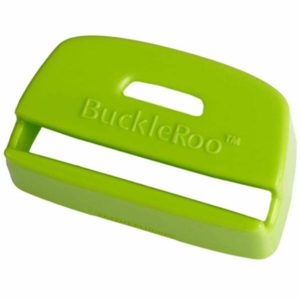 To use, simply slip the BuckleRoo over the buckle receptacle and connect the seatbelt as you normally would.  Then you can drive safely knowing your child cannot release the latch.  The product was designed with children with emotional or cognitive disabilities in mind.
BuckleRoo Seat Belt Guard Features:
Patented unique design blocks small fingers from pressing the buckle release button during travel
Universal design allows for simple seat belt installation in most modern family vehicles
Simply slip it over the buckle receptacle and slide the buckle through the slot

To release: stick your car key into the release slot and disconnect the belt

Durable shatterproof construction
Built-in breakaway emergency key
Click here to learn more!