One of the biggest challenges people face in the kitchen is cutting meats, cheeses, dough, veggies, pizza, brownies, and more.  If you're looking for a new kind of knife to make this task easier, check out the Samurai 360!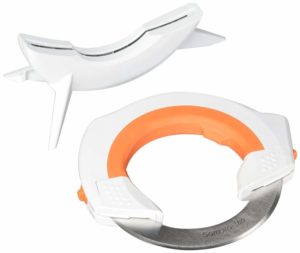 The Samurai 360 is a circular knife that makes precision cutting "easy and comfortable."  The blade rotates 360º so it stays in constant contact with whatever you are cutting to help you get all of your cutting done with ease.  It's ideal for individuals with arthritis (and more) as you can use less force when cutting.
Features of the Samurai 360 Circular Knife:
Made of forged stainless steel that is razor sharp and won't dull after use
Easy to take apart and clean
Gives you maximum control, which allows you to be more precise
Easily cuts, slices, chops, and minces
Comes with:

Blade cover
Pastry wheel
Countertop stand
Check it out on Amazon to learn more!