There are so many language therapy apps that it can be overwhelming to find one that works for your child or student.  Speech Blubs is a speech therapy app that uses voice-control and video technology to develop speech articulation for young children with or without speech difficulties.  It was developed by Blub, Blub Inc. which is a team of parents, digital experts and speech therapists.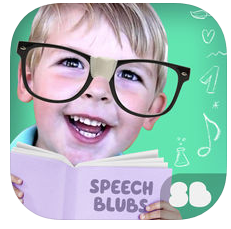 While using Speech Blubs, children will learn new sounds and words while practicing in a "stimulating, educational environment."  The app uses scientifically-proven learning techniques:
"Speech Blubs uses video modeling to create an immersive learning environment, allowing children to observe their peers on video as they learn.  When children watch their peers in real-time, their mirror neurons fire up.  This is scientifically proven to be highly effective in speech development, as confirmed by the University of California, Los Angeles study published by the American Speech-Language-Hearing Association (ASHA)."
Features of Speech Blubs:
Can benefit toddlers, late talkers, children with apraxia, autism, Down syndrome, ADHD, sensory processing disorder, and more
Over 1000+ exercises, activities, funny hats, videos, mini games, and more
New content released regularly
14 fun sections:

Early Sounds, When I Grow Up, Get into Shapes, First Words, Living Colors, This is My Body, Mouth Gym, Sing Along, Yummy Time, Ride Your Wheels, Guess the Word, Guess the Sound, Animal Kingdom, and NUMB3R5

Voice-controlled functionality provides a fun, interactive learning experience
Experience special effects like funny hats and masks in real time using facial detection
Collect stickers and fill your sticker book as your child progresses
Available to try for free
Check it out on Google Play or the App Store to learn more!