Last week I wrote about the Fidget Backpack, which is as the name suggests: a backpack…with fidgets on it.  If you are a parent or teacher, you already know kiddos are going to fidget, so why not give them the tools they need to channel this energy?  The company behind the Fidget Backpack also offers the Ball Cushion.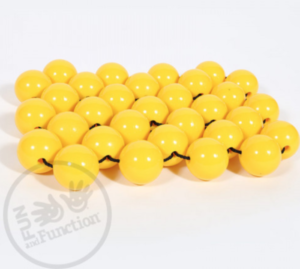 The Ball Cushion from Fun and Function is a seat cushion ideal for sensory and tactile stimulation.  In addition to being a seat cushion for wigglers, this cushion doubles as a lap pad for fidgeters!  It creates an active seat so children can wiggle while they stay in place.  Children can also place the weighted cushion over their lap for calming proprioceptive input.
Features of the Ball Cushion:
Can be used in a classroom or clinic
"Provides an outlet for sensory seekers and engaging under responsive individuals"
Beneficial for children with ADHD, sensory processing disorder, autism, and more
Use with adult supervision
Dimensions: 16″L x 11″W x 2″D
Weighs 3.5 pounds
Yellow PVC balls and polyester rope
Surface wash only.  Air dry.