I have written about several apps from Toca Boca over the years.  Toca Boca is an "award-winning play studio that creates digital toys and everyday products for kids."  One of the company's newest apps is Toca Mystery House.
This app features a spooky house filled with surprises meant for slightly older children.  Younger children can still play, but the overall feel is a bit spooky.  Children will have fun exploring the spooky house's rooms and floors.  This app is all about exploration and trial and error.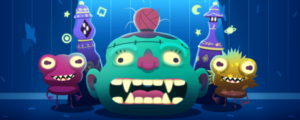 Features of Toca Mystery House:
Recommended for ages 7 and up
Eerie exploration and playful puzzles appeal to older kids
Educational:

Free-play exploration, decision making, prediction, motion, shapes, counting, basic science experimentation concepts and more

"Encourage your kid to slow down and spend time on the more creative, experiment-based features of Toca Mystery House.  What happens when you tap in different places? What about tapping and holding?"
Available for both iOS and Android devices.
Happy Halloween!