Individuals with sensory issues often benefit from fidgets, different lighting solutions, and products like the SANHO Dynamic Movement Sensory Sock.  The SANHO Sensory Sock is "self-calming, balancing, and increases body and spatial awareness."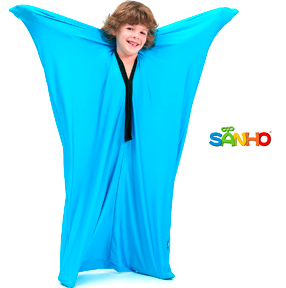 The manufacturer of this product, SANHO, focuses on creating tools for sensory integration.  The product can benefit individuals with Sensory Processing Disorder (SPD), autism, ADHD, and more!  Not only does it help calm children, it also can improve "balance, gross motor skills, and proper postural control/position by allowing organization in the sensory system and provides deep pressure input."
Overview of the SANHO Dynamic Movement Sock:
Available in four different sizes:

Small, medium, large, and x-large
Sensory sock should be the height of the individual using it (e.g. XL = 4.8″ – 5.8″)

Designed and recommended by professional therapists
Machine washable
Soft and breathable
Made from safe and nontoxic material
Product recommendations:
Measure the height of the user.  They recommend the sensory sock is the height of the individual using it, so try getting as close in height as possible; never purchase a sock that is larger than the individual using it
Separate it with other dark colored clothing when washing; you can hand wash or wash it in the machine, but air dry only
Children should only use the sock under adult supervision
Click here to learn more!