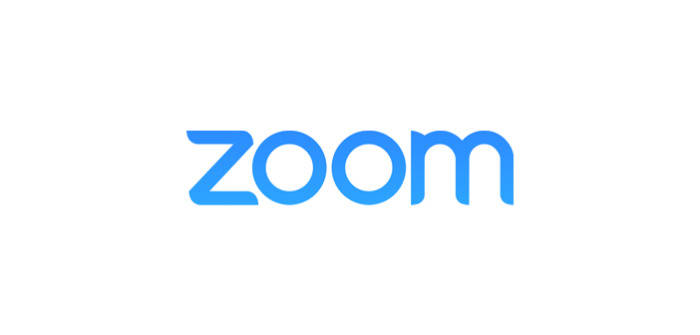 For me personally, I won't be able to reflect on the time I was quarantined due to the Covid-19 pandemic and not think about Zoom. Zoom is a cloud-based online video communication platform that can be used for online video conference meetings, webinars, and group collaboration. In today's world, for many of us, it has also become a platform for online school and socialization while we are under stay at home orders.  
Zoom is a very useful tool for having online meetings, online trainings, and offer tech support. It allows you to have meetings using online voice call, video chats, or instant messaging. You can also have separate breakout conference rooms to allow for collaboration in smaller groups and features screen sharing so the host can share PowerPoint presentations or videos. 
Zoom is available on a desktop or mobile devices and can be used with many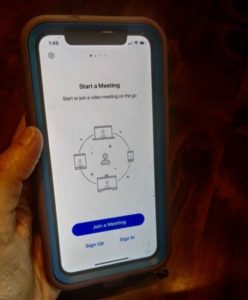 operating systems such as macOSX, macOS, Windows, Linux, iOS and Android devices. To use Zoom you would need a device with internet connection, speaker and a microphone, and a webcam for the video features. These meetings can even be recorded and stored in the cloud to access in the future. Zoom has free personal meeting accounts that allow a someone to host up to 100 participants for 40 minutes and unlimited minutes for any 1 to 1 meetings. They also have a Pro, Business, and Enterprise plans, which all provide added features. 
The Zoom account holder is the host and as the host you can schedule and host meetings. After scheduling a meeting, the host can use a quick link to add this to their Google, Yahoo, or Outlook calendar. They can then send a meeting URL to participants or "Copy The Invitation", which allows you copy and paste the meeting information to share.  
The INDATA Project has been using Zoom for years. Some of you may have participated in our FREE full day trainings that we provide. Those trainings are streamed using Zoom. We find it a very user-friendly application with many great features and what we are most excited about here at INDATA is that there are many built-in accessibility features in Zoom. These features provide access to individuals who are visually impaired, hard-of-hearing, Deaf, and those with limited dexterity in their hands. The accessibility features that Zoom has created in their platform are closed captioning options, automatic transcripts, and keyboard accessibility features. Zoom is also accessible with screen readers.  
Accessibility Features
Closed Captioning allows for the host or another meeting attendee (assigned by the host) to add closed captioning during a meeting. During a webinar, a closed captioner (assigned by the host) can type the closed captions directly via Zoom or integrate a third-party service. A sign language interpreter can also join the video meeting and sign for participants. There is an option to use a pinning feature to keep the interpreters video window stationary in a user's viewer.  
The audio transcript option in cloud recording can be used to automatically transcribe the audio of a meeting or webinar that you record to the cloud. The transcript will be processed after the recording and then a text file will be listed in the recorded meetings. These transcripts have the option of being displayed within the video itself like a closed caption display. You can edit anything in the transcript to correct errors. The transcript is divided into sections with a timestamp and you can even search for text within the transcription. The audio transcripts are saved in at .vtt format that can be downloaded and opened with Microsoft Word, Text Edit, or other common word processing applications.  
Keyboard accessibility allows a user to navigate Zoom without using a mouse and is compatible with Windows and Mac. These keyboard commands allow for easy navigation of the Zoom features. A list of the available shortcuts can be found in the accessibility settings under keyboard shortcuts. Shortcuts can also be edited by clicking on a shortcut and then pressing the preferred shortcut key. The ability to navigate Zoom via keyboard shortcuts would make Zoom accessible to an individual with little or no motor control in their hands. Keyboard accessibility would enable someone who needs to use a computer with one hand or allow a user to use a switch, a head pointer, or even a mouth stick control.  
Screen Reader accessibility Zoom is also accessible to individuals with visual impairments that use a screen reader. The platform supports many of the most common screen readers such as NVDA, JAWS, VoiceOver, and Android Talkback.  
Much like everyone else, Easterseals Crossroads and The INDATA Project had to quickly adapt to these changing times so we could continue to provide as many services as possible and now that so many of us are using Zoom for work, education, or social reasons, privacy has become a concern and a hot topic in the media. 
Fortunately, our entire agency has been using this platform for quite some time and we already had a business associate's agreement with Zoom and we were/are established as a Zoom for Healthcare client to ensure we are HIPAA compliant when using Zoom.
Our security officer monitors the FBI security briefings daily and we got early advice on how to provide the most security possible. We knew that "Zoombombing" (unwanted intrusion into a Zoom meeting by someone causing a disruption) was a problem before the media and put a system in place to ensure this did not happen. To assure that we would not get any unwanted participants in any of our meetings or trainings, we, as an agency, enabled the waiting room feature, which requires the host to admit attendees into a meeting. The host of the Zoom also has the ability to lock a meeting and many other privacy features are built into their platform. Zoom is working overtime to monitor and improve security and they have moved their entire team to monitoring and tightening security measures.  
Security Features
Below are some of those security features and steps you can take to protect your privacy during a Zoom meeting: 
Don't share your link

 on a social media platform. Anyone with that link can join your meeting

 

Avoid using your 

Personal Meeting ID (PMI)

 when you are hosting a public event. Your Personal Meeting Room is a permanent virtual meeting room that is 

reserved for you that you can access to schedule or host a meeting. It's ideal for people you meet with regular

ly; however, the Meeting ID should not be used for people you do not meet regularly with because once someon

e

 has the link to your PMI they can join in a meeting any time it is in use unles

s

 you lock the meeting or use the waiting room feature

. 

Generate a random meeting ID

– Generating a random meeting ID will generate a meeting ID for one

–

time use. This is the preferred to using your Personal Meeting ID for peop

le you do not meet with regularly. 

When you go to the "Schedule A Meeting" tab you scroll down to Meeting 

ID and select Generate Automatically. Below that it will have a Meeting Password and you

 have the option

 

to

 select that to be required by selecting 

Require Meeting Password

.

 

Use the 

Waiting 

Room feature

, which 

requires the host to admit attendees to the meeting and 

allows the host to control when the participants can join a meeting. The host can admit attendees one by one or hold all the attendees in the waiting room and then admit them all at once. 

(You can also customize the waiting room screen with your logo or a title screen). (Webinars do not support Waiting Room-use 

Webinar Practice Session, which allows the host and the panelists to set up and 

get acquainted with Zoom webinar controls before starting the webinar).

Lock

 the Meeting

– Once all of the participants have joined the meeting the host can 

lock the meeting and no

 

one else can join (even those with

 a

 meeting ID and password). In the meeting

,

 the host would find the lock me

e

ting feature in the participants pop-up 

panel

and wou

ld click the button that says Lock Meeting.

 

Don't give up screen control

. The host

 can prevent anyone in the meeting from 

screen sharing

 during the m

eeting. In the host controls-click the arrow next to share screen and go into the advanced options and you will find screen sharing options

 and can cho

ose whether the host or attendees can share their screen

. You can change these settings before or during a meeting. 

Allowing only signed-in users

 to join is another option for added security. If the 

part

icipants 

do

 not 

login to Zoom with an 

email

 the

y

 were

invited through they will get a message to "sign in to join".

 

Enable many

other security control features

 such as: setting up your own two-factor authentication, remove unwanted participants (

you 

can allow removed 

participants

 to rejoin

), put attendees on hold, disable someone's video, mute participants, turn off file transfer for attendees

, turn off annotation, disable private chats. 

 
Prior to the Covid-19 pandemic, we were providing Telehealth services to 4 individuals and within 3 weeks we were serving 460 consumers. Although we cannot perform all of our services virtually, this has enabled us to keep many of our essential services going. We are so proud of our staff's ability to adapt to these new ways of doing business and are getting great feedback from those we are serving about these remote services. Some services are doing what they can via Zoom to minimize what they need to do in person. Intake paperwork, assistive technology training, and speech therapy services are just some of the many services we are providing through Telehealth.  
Success Stories
We have many examples of how we are having success providing services remotely. WishTV Channel 8 interviewed our very own Dana Holcomb, Director of Children's and Medical Services, at Easterseals Crossroads on some of the creative approaches therapists and parents are using to engage kids and to discuss how we are working remotely to support parents and their children during these difficult times.  Click Here to view this interview. 
Many of our therapists are working hard to construct new ways of connecting with their consumers in a meaningful and productive way. They have utilized Zoom's whiteboard feature, which allows the host to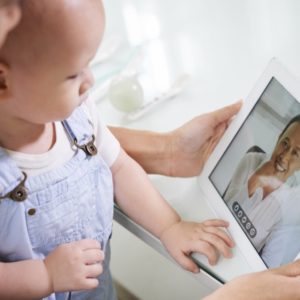 share a whiteboard and the host and participants can use annotating tools on it. Our therapists have found creative ways to use this such as using a whiteboard to play games for speech therapy. Although our adult day staff is not able to provide services, they have been using Zoom to check in on consumers who might be socially isolated.  
Our Augmentative Communication Specialist, Wendy Strickland, is also having success using Zoom with her clients. She said, "One of my consumers started her eye device trial while we were working from home. I got it set up with her mom over Zoom and we had our first session. Her mom was crying telling me how the child will request a toy, look at her and then go back and say it several times until she gets it. She said as annoying as it is to hear "baby" 50 times, it's nice because she has waited so long to hear her talk. Her mom wanted help figuring out how to position the device within the child's play area on the floor. Since its eye gaze, it always has to be lined up with her eyes. Mom took her laptop to that area and showed me how the child sits up to play on her mat. Ultimately, I decided she needed another mount so I contacted the vendor who was able to drop one off the same day at their doorstep. The mount was completely sanitized and ready to be used. The following week I met via Zoom with, the consumer (and her mom) and another therapist so I could help her learn how to use the device too.  I'm happy she got to do her trial now instead of having to wait because who knows when it will be safe for some of our medically fragile consumers to come back to the clinic." Wendy, said, "Another nice thing about using Zoom is I've been able to collaborate with more people. I've had sessions where school therapists and teachers have joined to see what we are doing in therapy. I really see this opening up doors for the future to have more collaboration between outpatient therapies, families and schools." 
Josh Anderson, Manager of Clinical Assistive Technology says that their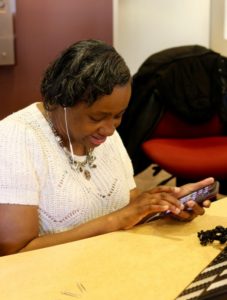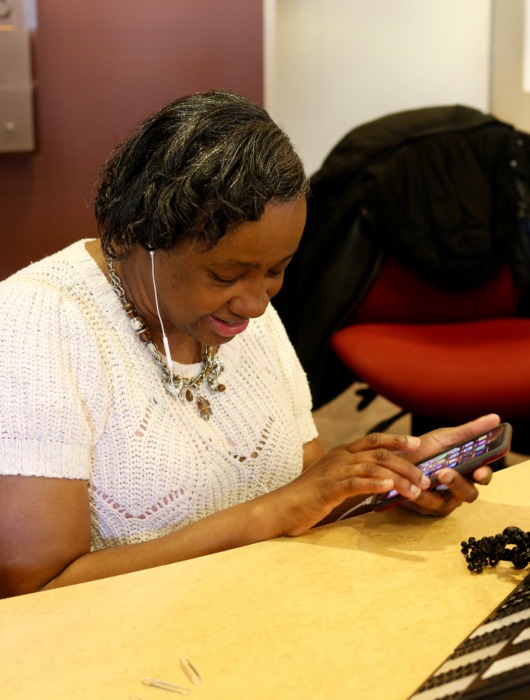 team is providing training and evaluation services via phone and Zoom now. He said, "We are still meeting with folks in person where needed, but providing all other services remotely if it is appropriate for the consumer and they can get what they need in a remote setting." There have been many success stories from his team in regards to providing remote services. Belva Smith, AT Specialist, had a consumer with a visual impairment that needed a job site evaluation, but this person works in a group home so Belva is not able to physically visit her job site. She was having difficulties at her job and was concerned that she was going to lose her job. Belva was able to do her intake remotely and gathered as much information about her situation as she could. She was able to make suggestions that would help her better see her computer screen. Her consumer was so happy to be getting the assistance she so desperately needed and said to Belva, "Thank you so much for this call. I have some much anxiety right now with all that is going on. I never expected you to reach out at this time and certainly didn't expect you to have a possible solution that might help. I just hope you know that this conversation is the best thing that has happened since the whole world got shut down."  
Most FAQ's about Zoom
These are just some of the ways people are using Zoom to provide services in our agency and there are so many more features about Zoom that you may want to learn about and you can click here to learn more.  When I have participated in Zoom meetings the two most frequent questions have been how can I view all the participants and how do you upload a virtual background? So, I will go ahead and answer that here in case you have those questions as well. The Active Speaker View will show whoever is speaking in a large active panel. To access this view you click the large rectangle button panel icon and to see all the participants you would select the Gallery View, which is a 4×4 grid icon. The Virtual Background Feature allows each user to display an image or video as their background during a meeting. Click here to learn more about changing your background on varying devices and platforms. 
As a technology first disability service, we are excited to see what this means for the future of our organization and how we can better serve people with disabilities in Indiana. Our agency believes these times will radically change the way we work in the future and we continue to develop practices that will improve our Telework. We feel confident that we will continue to improve these services and continue to provide them in situations when it better serves the consumer. It would be an even longer blog to discuss everything Zoom can do, but we wanted to highlight the accessibility and security features and how we are successfully incorporating virtual services into our everyday lives. Click here to learn even more about Zoom and the many features of the platform.