If you're looking for a product that makes holding your smartphone easier, check out the Ohsnap Grip!  According to its Kickstarter page, it is a "powerful grip stand, and magnet wrapped inside a super-thin frame."  Additionally, it is compatible with Snapcharge, the company's magnetic wireless charger.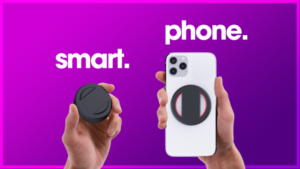 The website continues:
"It makes life with your phone happy, productive, and care-free without the ugly bulk. Ohsnap works for all phones and finger sizes, and is easily adhered to the back of your phone in less than 20 seconds."
To use it as a grip, simply slide your finger through the loop.  It also transforms into a multi-angle kickstand.  Ohsnap's magnetic feature makes multitasking "easier than ever."  You can stick it to refrigerators, car mounts, and more.
Other features of the Ohsnap Grip include:
Once it is collapsed it measures 3mm versus other grips which measure 7mm completely collapsed down (like Popsockets, for example)

This makes your device sleeker thus making it easier to slide in and out of pockets

Its 360º rotation feature allows you to get the "best possible angle that works for your unique gripping style"
Made out of ultra-strength, tear-resistant silicone "that's guaranteed to last millions of cycles
The company will replace the grip for free if it gets damaged or broken
The ohsnap grip is installed in three easy steps
Fits all phones and will stick to any phone; the grip may not stick to particular phone cases
Check out the Kickstarter campaign to learn more OR visit their website. 
Click here to read about another available phone grip I wrote about last week!