For many individuals with ADHD, ADD, autism, and more — they often benefit from structure in their daily lives.  Tiimo is an app that provides visual structure and support in everyday life.  "It's a solution that combines a calendar, time management, icons, and reminders in one smart digital solution."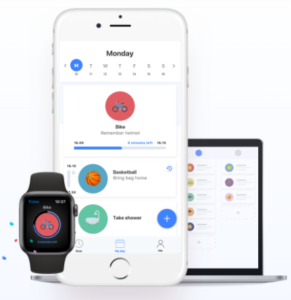 After downloading and setting the Tiimo app up, you'll be able to access an overview of your entire day, providing the support you need to be more independent and helping to reduce anxiety and stress.
The app is built on science.  Here's more from the developer's website:
Tiimo was designed in continuous consultation with scientifically recognized methods to support communication, social interaction, and participation in everyday life. To do this, Tiimo combines visual aids, time management tools, and motivating reminders into one smart solution.
Overview of the Tiimo App:
The app allows you to upload your own photos to help visualize a given task or activity
You are able to further personalize it with many icons, emojis, and colors
The developer acknowledges the importance of positive communication and celebrating small successes

You'll get motivating reminders that inform you of your progress through a given task, and it "celebrates" with you when each task is complete

Take advantage of the app's web-portal where you can view the best overview of your schedule by week

You can also use it to plan ahead and create routines
If changes come up, the web-portal allows you to easily create and edit tasks directly in the app
Simply log in on your phone and use the "Plan and use" function

The family sharing option allows you to use the Tiimo app for your whole family

You can create up to 5 different schedules and you can always log in using the same Tiimo-account on multiple devices simultaneously

Available on iOS devices (including the Apple Watch!)
The app can benefit individuals with ADHD, ADD, autism, Aspergers, PTSD, bipolar disorder, and more
Click here to learn more!