We first wrote about Amazon Echo devices in 2014.  (Wow, how time flies!)  The multinational company based in Seattle, Washington recently introduced two new products: the all-new Echo Dot with Clock and Amazon Halo Band.
When I originally wrote about the first-ever Echo Dot device (nearly 7 years ago), I had no idea how much it could help individuals with disabilities.  If you're unfamiliar with Echo devices, in sum they are smart speakers with dozens of skills and abilities (depending on which model).
Here's a little blurb on how Amazon Echo devices benefit me:
I have really bad tremors and poor strength/dexterity in my hands, so I drop my phone several times a day.  There have been countless times where I needed to call for help but was unable to get to my phone.  Since I have Amazon Echo devices throughout my home, I simply say aloud: "Alexa, dial #…" or "Alexa, call neighbor x."  This ability alone is well worth the cost of a device (in my opinion.)
Additionally, when there are multiple devices present, you can use the drop-in feature to page someone who may be in another room.  Click here to learn more about the drop-in feature.
New (4th Gen) Echo Dot with Clock:
The all-new Echo Dot with Clock features a sleek, compact design that delivers "crisp vocals and balanced bass for a full sound."  Unlike the other Echo Dot devices, the newest model features an LED display.  This makes it perfect for your nightstand – you can see the time, alarms, and timers on the LED display.  Simply tap the top of the device to snooze an alarm.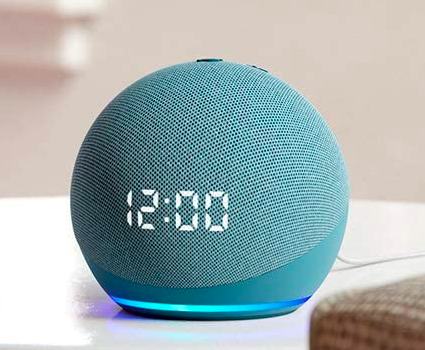 (4th Gen) Echo Dot with Clock Features:
Ask Alexa to tell a joke, play music, set alarms, check the weather, play the news, and so much more – completely hands-free
Call almost anyone hands-free
Control compatible smart home devices with your voice (e.g. lock doors, adjust thermostats, turn lights on/off, and so more!)
Built with multiple layers of privacy protections and controls, including a microphone OFF button that electronically disconnects the microphones
This device is available to pre-order now.  It will officially be released on November 5, 2020.
Click here to learn more!
Amazon Halo Band:
The Amazon Halo Band is Amazon's first official wearable.  It is a brand-new wearable that can "measure, track, and improve your health every day."  Unlike similar devices on the market, there's no screen so it won't interrupt or distract you.  The Halo Band focuses on your health, so you can focus on your life.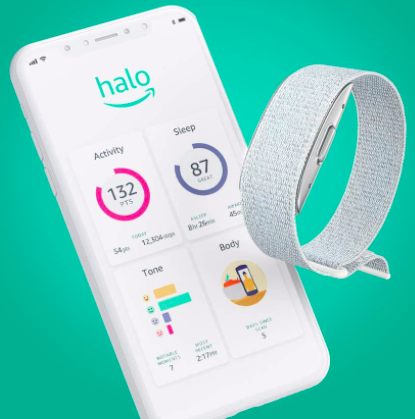 Amazon Halo Band Features:
With the Halo Band, you don't just count steps – you know what steps really count
Informed by guidelines from the American Heart Association, the wearable measures the intensity and duration of your activity throughout the day
When worn while sleeping, Halo analyzes the "quality and quantity of your sleep," then it provides suggestions from experts to help you sleep better
The Band uses your smartphone's camera to analyze body fat percentage, a "better indicator of health than weight or BMI alone."

Body scan images are automatically deleted from the cloud after processing
Then a personalized 3D model helps you track progress over time

Halo is nearly 2x as accurate as leading at-home smart scales
One unique, neat feature of Amazon's new wearable is that it acknowledges the importance of social well-being.  When the tone feature is enabled, Halo analyzes the tone of your voice throughout the day.  This helps you better understand how you may sound to others.  (For example, you may think you sounded affectionate when you really sounded bored…)
Halo analyzes the qualities of your voice like energy and positivity to help strengthen communication.
The Amazon Halo Band is available exclusively via early access.  Click here to learn more about this wearable!