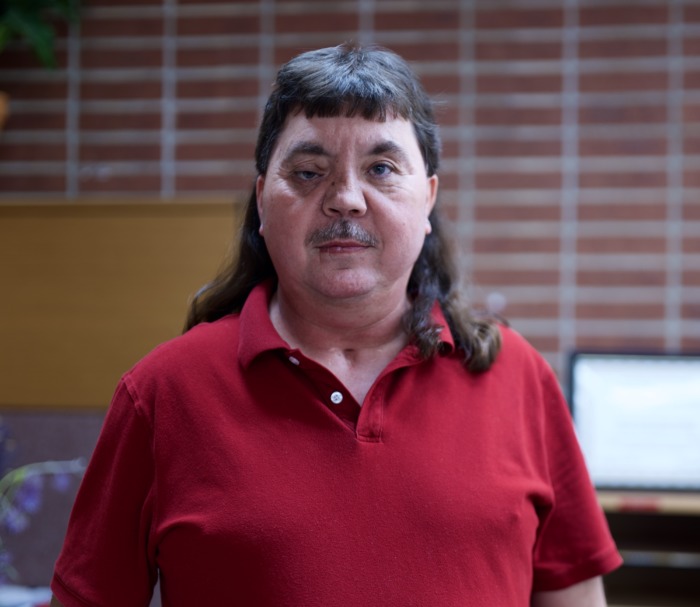 Randy Berg was born in Terre Haute, Indiana on July 15, 1961. He graduated high school from Terre Haute South Vigo High School in 1980. Immediately after high school, he enlisted in the U.S. Navy and went to boot camp in Orlando, Florida. He then went to HTFN (Hull Tech), Firefighting training, and NBC Warfare defense school in Philadelphia and was then stationed on the USS White Plains AFS-4 7th Fleet in Yokosuka, Japan. During high school, Randy worked as a welder through the VICA club at a few tool and machine shops. When he left the Navy, he returned to Terre Haute and started working again as a welder and worked at Mt. Plesent Tool and Machine and Induction Engineering/Creative Car Clinic. He also built and owned race cars and monster trucks. During the 80's, he was also a lead singer in a band named MONARCH.
On March 6, 1987, Randy was in a motorcycle accident that resulted in him losing his vision. Randy was run off the road and hit a tree face-first going 45 mph without a helmet on. Upon impact, he lost his sight. A tree branch poked out his right eye and the nasal bones severed the optic nerve on his left eye. He had 5 major facial reconstruction surgeries at Methodist Hospital in Indianapolis between May 1987 and November 1988, but they were unsuccessful in restoring his sight.
Randy said, "I overcame any challenges rapidly. My mindset was blind or not, I have a life to live and I am going to live it. I went directly to acceptance, never looked back, and still don't today. I also had my 4-year old daughter, Nichole (Nikki), and she needed a father. In May 1987, I started raising Nikki as a single parent before even having any of my facial reconstructions. I also raised my son Nathaniel (Nate) as a single parent when he was born in August 1996.
After losing his vision, Randy applied for Vocational Rehabilitation Services (VR), which is a state agency that assists individuals with disabilities in obtaining or maintaining employment. He decided to go to Indiana State University and VR referred him to Easterseals Crossroads (ESC) for an assistive technology evaluation to determine what technology was available to assist him in achieving his goal of going to college. An assistive technology evaluation is a one-on-one evaluation by an assistive technology specialist to determine the appropriate technology to meet someone's need at home, work, or in the community. In working with the assistive technology department at ESC, it was determined that Randy would need a computer that could connect to the database at the ISU library. VR purchased a computer, printer, monitor, and a dial up modem that would reach the school's database and the assistive technology specialists at ESC set up the equipment and trained him on using the equipment. This was prior to the Internet, but the school did use online bulletin boards. Randy graduated with a bachelor's degree in social work in 1992.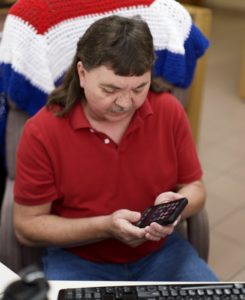 Over the years as technology has changed, Randy has worked with many of the assistive technology specialists at ESC such as Wade Wingler, Brian Norton, and Belva Smith and received services though the Visual Impairment Services Team (VIST program) through the VA Hospital in Indianapolis who provides him with a new computer every 3 years so he can stay current with the technology he needs. They have worked with him to determine his needs at home or in the workplace and to train him on any equipment/software so he can live and work independently. Randy is currently using JAWS, which is a computer screen reading program for Microsoft Windows that allows a blind or visually impaired user to read anything on a computer screen with text-to-speech output. He also has an iPhone 11 and uses Siri to be able to use his phone with voice commands, and a smart watch. Randy also uses a talking calculator and a Pearl portable reading camera, which makes printed material accessible to blind and low vision users by taking a picture of printed text and converting it instantly into a document that is instantly read aloud by a screen reader like JAWS. All of the technology he has learned over the years allows him to email, text, use social media, track fitness, and communicate with VA doctors.
After graduating college, Randy has had several jobs such as running a light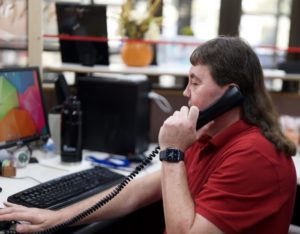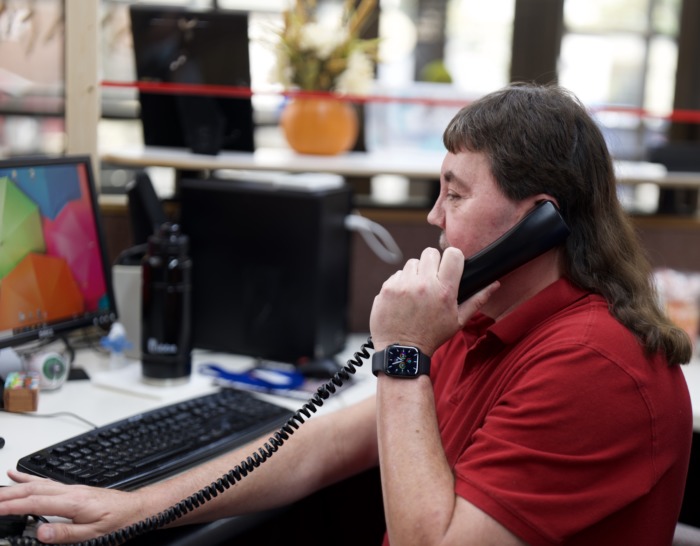 show for the band Stiff Possum aka Flashpoint and he worked for Charter Hospital where he answered phones for the crisis center. From 2002 to 2012, he worked as a Volunteer/Intern coordinator at Vigo County Lifeline/Indiana 211 and on April 2, 2012 he was hired by the Will Center (Wabash Independent Living and Learning Center) to work the front desk and do social media. He also works as a field trainer with undergraduates from the ISU social work department. All of the assistive technology he now has in place has allowed him to have a successful working career. The technologies he has in place allows him to perform all the duties necessary in his current position at the WILL Center including answering the phone lines at the front desk, updating their social media and updating their website.
Randy said he is so thankful for all the assistive technology he is now using because "it allows me to work at a job that without it I would not be able to do. Assistive Technology offers people with low vision or no vision a way to live a more productive life and makes it really fun. My advice to anyone in need is to not be afraid of technology, accept it, and open up your world for independence."