The other day I wrote about the I-Series available from Tobii Dynavox.  Another one of their available communication devices is the Tobii Dynavox I-110 AAC tablet.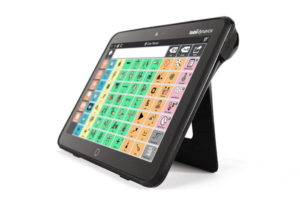 According to Tobii Dynavox's description, the I-110 is an "ultra-durable" speech-generating device built for communication on the go.  Additionally, this touch screen tablet enables people who cannot speak to break boundaries, without breaking their device.
"This rugged device is made for real life with an all-day battery. It's ready for wet grass, rain showers and spills with a water-resistant design. Grab it on the go and put it down where you like thanks to an integrated kickstand. If it drops, the Gorilla Glass screen offers added protection."
The I-110 is tailor-made for AAC.  It features powerful outward-facing speakers to ensure the user's voice is heard.  Users can operate the tablet via touch, scanning, or headmouse.
Overview of Tobii Dynavox I-110 AAC Tablet:
Durable AAC tablet built to last
Custom-built for augmentative communication on the go
Made for real life with an all-day battery
Features outward-facing speakers to ensure your voice is heard
You can mount it to a wheelchair or carry it with you
Water-resistant
Comes with a durable case, shoulder strap, charger, and mount plate or mount plate with handle
Microsoft Windows 10 Pro operating system
Screen measures 10.1″
Click here to learn more!