Yesterday I wrote about the Foam Grip Tubing from Vive Health.  Vive Health offers so many daily living aids and other solutions for individuals with or without special needs.  Since they have so much to offer, I thought I'd write about some more products from the company, such as their assortment of Arthritis Gloves!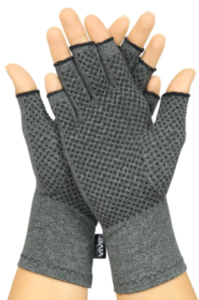 Did you know there are over 100 forms of arthritis?!  Simply defined, arthritis is "inflammation in one or more of your joints."  The most common types of arthritis are osteoarthritis and rheumatoid arthritis. OrthoInfo goes on describing hand arthritis specifically:
"The hand and wrist have multiple small joints that work together to produce motion, including the fine motion needed to thread or tie a shoelace. When the joints are affected by arthritis, activities of daily living can be difficult. Arthritis can occur in many areas of the hand and wrist and can have more than one cause.

Over time, if the arthritis is not treated, the bones that make up the joint can lose their normal shape. This causes more pain and further limits motion."
If you or a loved one have arthritis in your hand/fingers, check out Vive Health's assortment of arthritis gloves.
Vive Health's Arthritis Gloves:
The gloves use gentle compression to help reduce pain, inflammation, and stiffness in the wrist and hand.  This particular set of gloves feature an open fingertip design, which allows you to "easily perform everyday tasks."
Features:
Lightweight blend retains therapeutic heat while remaining comfortable and dry
Designed to require minimal stitching to eliminate irritation
You can easily and comfortably wear them throughout the day and night
These gloves provide "exceptional coverage for wrist, hand, and finger joints"
The arthritis gloves with the open-finger design (above) are also available with built-in grips.  The textured grip helps users perform daily tasks easier.
Features:
Lightly textured grip makes it easier to grip and perform daily tasks
Made of cotton-spandex blend, the lightweight material provides comfortable and breathable fit
Delivers soothing warmth and support to stiff muscles and joints
Compression design relieves inflammation and stress on pressure points while easing pain located in hand and wrist muscles, tendons, and joints
Another potential solution is the Finger Sleeves.  The Finger Sleeves gently stretch to fit most adult finger sizes.  They allow fingers to comfortably bend while providing gentle support for daily tasks, sports, and more.
Features:
Made with a soft cotton blend which is both lightweight and breathable
Comes in a large multipack which includes 30 finger sleeves in small, medium, and large sizes to fit every finger
Allow a full range of motion while providing soothing compression and gentle support
The Full Finger Arthritis Gloves provide mild compression to the hands, fingers, and wrists.  Additionally, they "effectively reduce pain, inflammation and stiffness."
Features:
Constructed with a lightweight cotton blend that remains cool and dry
Easily perform tasks like driving, typing, cooking, and more
Minimal stitching eliminates friction and irritation for greater comfort
Provides "exceptional coverage for wrist, hand and finger joints"
Tipped with touchscreen-friendly material so you can easily use your phone, tablet, and other touchscreen devices
Click here to learn more!