I originally wrote about an app coined "BlindShell" back in 2015, which was a smartphone app for individuals with visual impairments.  The developers behind this app now offer an accessible cellphone: the BlindShell Classic.  The BlindShell Classic is a phone developed specifically for individuals who are blind or visually impaired.
According to the developer's website, the BlindShell Classic is the "most accessible cell phone for people who are blind or have visual impairments."  Unlike most smartphones on the market today, this one features a physical keyboard making it more user-friendly.  The phone's physical keyboard consists of large, tactile buttons.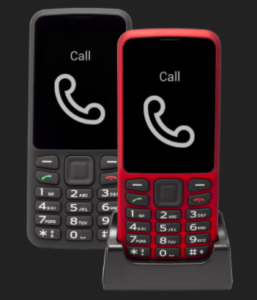 The BlindShell Classic also has a large digital display screen that provides visual feedback in a "large, bold, customizable font."  In addition to using its physical keypad, users also have the choice to operate the phone with their voice!
Another cool feature is the phone's Object Tagging application.  Users simply take pictures of objects using the phone's built-in camera.  It uses QR technology to help users distinguish between objects within seconds!
Overview of the BlindShell Classic Smartphone:
Accessible mobile phone for individuals who are blind or have visual impairments
There is a large LCD screen with a keypad below it consisting of large, tactile buttons
Basic phone functions include calling, one-touch speed dials, SMS texts, email, notes, alarm, timer, and a calendar
Other available functions include:

Object tagging
MP3 player
FM radio
YouTube
SOS Button
And much more

Users can press the physical SOS button (for 3 seconds) if they need help from their emergency contact

This emergency contact is customizable

More than 30 applications and functions built-in to the smartphone
Users can control the phone with their voice using simple commands

Please note this feature requires an internet connection
Users can dictate texts, emails, notes, and more

Feedback is provided by a built-in synthetic voice, vibrations, and additional signals
Instead of charging the phone with a standard charging cable, this phone comes with a Charging Cradle (dock) which you simply place your phone on to charge
Available in red or black
Check out BlindShell's website to learn more!
Click here to view the phone's user manual.