Podcast: Play in new window | Download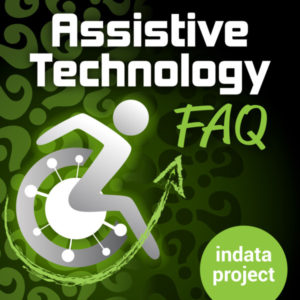 Panel: Brian Norton, Josh Anderson, Belva Smith, Tracy Castillo. Q1. Scanning issues in iOS, Q2. Handheld Bluetooth Mics, Q3. Techniques and Guidelines for Cleaning Devices, Q4. Apple vs. PC accessibility, Q5. Chrome Apps for Reading and Writing, Q6. Wildcard: To upgrade or not
—————– Transcript Starts Here ——————————
Brian Norton:
Welcome to ATFAQ, Assistive Technology Frequently Asked Questions, with your host Brian Norton, Director of Assistive Technology at Easterseals Crossroads. This is a show where we address your questions about assistive technology, the hardware, software, tools and gadgets that help people with disabilities lead more independent and fulfilling lives. Have a question you'd like it answered on our show? Send us a tweet with the hashtag, ATFFAQ. Call our listener line at (317) 721-7124, or send us an email at tech at eastersealscrossroads.org. The world of assistive technology has questions and we have answers. Now let's jump into today's show.
Brian Norton:
Hello, and welcome to ATFAQ episode one 33. My name is Brian Norton, and I'm the host of the show, and we're so happy that you've taken some time to tune in with us this week. We've got a great lineup of assistive technology questions for you today. But before we jump in, just want to take a moment to go around the room, our virtual Zoom room that is, to introduce the folks who are sitting here with me today. The first is Belva. Belva is our vision team lead for our Clinical Assistive Technology team. Belva, do you want to say, Hey?
Belva Smith:
Sure, hey everybody.
Tracy Castillo:
[crosstalk 00:01:30].
Brian Norton:
She was undecided at first. Next is Tracy. Tracy is our INDATA program manager. Tracy, do you want to say, hey?
Tracy Castillo:
Sure do, hey everyone.
Brian Norton:
Excellent. Then we also have Josh. Josh is our manager of Clinical Assistive Technology Services. Then also, AT Update, our producer of AT Update, one of our other podcasts here at Easterseals Crossroads in the in data project. Josh, do you want to say hi?
Josh Anderson:
Hey everyone.
Brian Norton:
Excellent. Before we jump into the questions that we have for this week, just want to take a short moment to go through a little bit of information about our show, so that if you're new, you kind of understand what our show is all about. We come across feedback and various assistive technology related questions throughout the week, and we have a variety of ways for you to be able to provide feedback and get us your questions. Those would be our listener line. Our listener line is (317) 721-7124. Or we have an email which is tech@eastersealscrossroads.org. That's tech@eastersealscrossroads.org. Or we also have a hashtag set up for Twitter.
Brian Norton:
You can reach out to us with hashtag ATFAQ through a tweet. We monitor all of those different various ways to get us your questions and feedback, collect it all, and then we try to put that into a show. If looking for our show or want to share our show with other folks, we've also got a variety of ways for folks to find us. You can really just about find us anywhere you can download podcasts. You can go to iTunes, atfaqshow.com, through Stitcher, Google Play Store, or through our website, eastersealstech.com. Just wanted to let you know about those, but without further ado, we're going to jump into our first question today.
Brian Norton:
Our first question is, is anyone using the scanning feature in iOS 14? If so, are you having any troubles? This person's had a client reach out to them asking them about the scanning feature on iOS 14 and saying that they're having some issues and just wanted to kind of find out from others if they're experiencing similar issues, and if so, if they were able to resolve them. I don't know about you guys, but I've played with the scanning feature. There's really basically two scanning options within iOS 14. The first is within your notes section, you can actually take a picture, or what they call scan a document from within notes. You can also do it from within files. The file app that's on your iPad as well, or on your phone. For me, I've not had any trouble with that. I was wondering if you guys have had trouble with that too.
Belva Smith:
I can tell you Brian, sorry, I'm cracking myself up here. I tried to use it with notes and I couldn't find it, so I wasn't able to use it with notes, but I did use it with files, and it worked. It worked, but there's not a whole lot of features with it. I would prefer to do it with OneDrive myself. Because there's just so much more than I can do with it with OneDrive. But yeah, I tried to do it in notes and I don't see that option in notes. I know that during our last recording, you talked about the new iOS 14 features, and I thought I had done it, and I hadn't, and then I did. Wow, was I very upset at first, because I found a lot of things that didn't work.
Brian Norton:
Just so you know, so to find it within … So, there's two different versions. Obviously there's iOS 14 for your phone and then there's also iPad iOS for the iPad. To get to it on your phone, if you open up a new note, you will see a camera icon on the bottom of the screen. If you click on that camera icon, there is a scan documents option. That's how you can actually scan a document into a note file if you want. Same thing with files. But again, I've not had any difficulty with it. I have used OneNote or one drive as well to be able to scan in documents, and that seems to work pretty well too.
Tracy Castillo:
Brian, I have something though. Now, I did go into files and I see where you can add a new file and I thought that was pretty cool. I just found out about this feature. I've been using Office Lens. I don't like it. I don't like it either, Belva. The reason I don't like it is I've scanned everything in and I sent these important documents to someone. They received the documents and they told me, "Well, you can't send the documents like this. You can't use your phone's camera. Then I got to think, what is the difference between taking a picture and sending it and then scanning it with the phone? Does the PDF file do something different to it? But that's just my question about it. I'm thinking it may have been just a user error that time, but I do like the fact that it's now in the file settings, because before with Office Lens, I would scan it and then I'd have to try to tell it where to save that file. I was always confused of where I put it. I think I like the new feature now.
Belva Smith:
Yeah, and I did not see the option of saving it as a PDF when you're capturing it this way. That's another reason why I prefer OneDrive. Most people may not even be aware that they have access to one drive, but pretty much, if you have office, you have access to one drive, and it does give you the option to capture and then save as a PDF without having to transfer it into a different format. That's what I liked about it.
Brian Norton:
Yeah. I think you're right. I'm looking at the one within files on my iPad. It does not look like it at this point that you can … it's just the picture. kind of what you were describing, Tracy. It's not allowing you to convert it. I'm not sure if that is the same way … it probably is within-
Belva Smith:
Yeah, it doesn't have any options. It's pretty much just a capture and you get what you get.
Brian Norton:
Then you probably, once it's on your computer, you need to go to that file from a computer to be able to have it export out into a PDF or print to PDF, if you're trying to get it to go there. But even then, accessibility wise, I think there would be some issues with that document because it's still just an image. It's not probably been tagged or had any other accessibility options built into that particular PDF file, even once you've converted it. It would probably be a pretty inaccessible PDF document, unless you have Adobe DC to be able to go in and actually tag the document and put those tags in there.
Belva Smith:
Well, now, wait a minute too, because if I capture the document using the camera on my phone, that doesn't automatically end up on my computer, right?
Tracy Castillo:
I figured something else. I did just take a picture of my keyboard with the scan feature and the files. It does save it as a PDF file. My question was, how good is that? What's the difference between that PDF file in a regular picture? That's what my question was. But yeah, it doesn't give you an option where to save it. It saves it right there in the file, and you can click and drag it to whatever folder you want to put into it. But it does say it is a PDF document.
Belva Smith:
Really? Because mine doesn't. Mine comes out as a scanned … Oh yes, you're right. It did. It came out …
Tracy Castillo:
It's a few steps.
Belva Smith:
[crosstalk 00:09:35] document.PDF, but it's also, if I want to send it, it's sending it as an open file, not as an attachment.
Brian Norton:
[crosstalk 00:09:44].
Belva Smith:
Which is Office Lens used to try to do too if you tried to send it directly from Office Lens, but OneDrive doesn't do that. OneDrive sends it as an attachment.
Brian Norton:
I would just think there's maybe some additional questions we'd have to kind of understand about the particular person's situation. What are they wanting to do with that document? What's the specific use case for the document that you're trying to scan and what are you trying to do with that? If you're trying to save it to particular place, those types of things, to be able to maybe fully answer that question. It is pretty impressive that they built a couple of options in there. Especially I use Notes all the time for just quick, if I'm meeting with someone, one of you guys per se, and we're having a conversation, I'm jotting down some different notes within my Notes file. It would be great if we were referencing a particular document to take a quick picture so I have that directly in my notes that I can get access to and look at it later on when I'm trying to digest fully what we had talked about and try to put my thoughts together on what next steps might need to happen.
Brian Norton:
I like that there's features like this within iOS 14, but I guess in this particular case, knowing a little bit more about the situation would be helpful. But again, for what it does, I've not had any issues getting a file into my files into OneDrive because you can connect your OneDrive. You can connect Dropbox with the files feature on your phone or with an iPad, and use that scan document feature that's within there to be able to get those documents to where you want them. It's just, what are you going to do with them once they're there? To your point, Tracy, is it any different than a picture? I'm not sure. That's a good question. Unless you have the option to be able to edit those, or print the PDF or be able to tag or build the accessibility features into whatever document you're creating.
Tracy Castillo:
Thanks.
Brian Norton:
Yeah. Excellent. Well, I would just like to open it up to our listeners. I'm just wondering if you've had any trouble with iOS 14 and the new scanning features, those options. Again, there's one in files, and there's one in Notes, to be able to take a picture of a document and save it within those particular areas. I'd love to hear from you if you've had any trouble with that. You can give us a call on our listener line. That's (317) 721-7124, or you can send us a tweet with the hashtag ATFAIQ. Love to hear from you. Have a good one. Thanks. All right. Our next question is, I want to purchase a handheld Bluetooth mic to work with iOS and Android. This mic would be used in Zoom or with Facebook Lives as if you were interviewing someone at an event. Any thoughts?
Josh Anderson:
I've kind of got one for this, and it's not exactly what they're asking for, but you can make it work. The problem with a lot of these handheld mics is they're kind of set up for like karaoke. If you really look and find the Bluetooth ones, it's almost always the karaoke version. I don't know how good they are or how kind of far they go. But one that I've used a lot is the, and I'm going to mispronounce this, it's A-L-E-A-D, so Alead Nolan Live MIC2. You can get on Amazon for like $75, but it's a little clip mic, but it does have the little 3.5 millimeter input. If you could find a handheld microphone that could plug into that, you could still use it for the Bluetooth capabilities, but I've used it for a lot of folks, especially folks with hearing impairments that maybe need to have this on a speaker, to where it comes back to somebody and they can use their phone or device for transcription or other things, and it works really well.
Josh Anderson:
It connects really easily. You can connect it to a computer or a phone or a tablet. You can actually go back and forth between them, but I've had people use it a hundred feet away. I don't think it says it's good for that long, but for about a hundred feet away, we got it to work with very little latency. It works really, really well. It's got a really good sound quality. It does a great job. Again, it's not really what this person's looking for because it is a little clip on microphone. It's very small. But it does have that little input where you could probably plug a different kind of microphone that wasn't Bluetooth compatible into. Because I've used lapel mics and things like that with it before. You just plug into there. So, the folks could do it.
Josh Anderson:
Or, even with a small form factor, you could hold it in front of somebody if you're trying to do interviews and things like that, but it works great. I've had great luck with it. It's rechargeable, and charged last on it for a really long time. Again, 75 bucks really isn't bad for a pretty good microphone.
Brian Norton:
Yeah, that's great.
Tracy Castillo:
When I first read the question, I didn't realize they wanted it to be handheld. I, myself, I like headset and I enjoy that one, but I'm assuming they're wanting it to be like for interview style questioning during Zoom calls. I was just going to mention that my microphone that I have, it's a karaoke one. But I pay $40 for it and use that one when it's time to sing again around the house. I haven't used it during a Zoom call. I'll break it out next meeting we have, see how that works.
Brian Norton:
That's right.
Belva Smith:
I found two that had good rating. They're both by lapel mics Movo, M-O-V-O. One, they are both handheld or yeah, they both can be handheld, but the HM-M2 is a dynamic omnidirectional one. It's like 50 bucks, but it is used often as an interview microphone, because that way you can pass it back and forth. I think that's why they were wanting something handheld. The other one, the WMX-1, and both of these are on Amazon, it's a lot more expensive. It's $120, but it also does say that it works with the iPhone. It does not specifically say that it works with Android, and I believe that that one of the requirements for this individual. But I can only assume that if it works with the iPhone, it probably would work with the Android as well.
Brian Norton:
Yeah. I did a little research on this as well. I think those are all great microphone options. I didn't have a whole lot of luck. I kept finding wireless microphones for phone systems and conference rooms and other kinds of things. Sony has some. Revolabs has some. Interesting, you guys seemingly have found some really nice options for folks. It's really kind of a challenge because a lot of those things are made to connect to a computer, and when you're out and about, you don't always have your computer open with USB or some other way to connect it with Bluetooth or whatnot. What I usually find with microphones is usually they're tied to a headset. I'm using Apple AirPods, which has a great Bluetooth microphone, but I'm not passing my earplug around to different folks for those types of things.
Brian Norton:
It's usually connected to a headset. I've a couple of microphones that I really do like. We have the Catchbox box microphone. But again, that requires a kind of a sound system for that to be able to run. You have to be able to feed that into something, but that Catchbox is pretty cool. I forget all of the inputs that those Catchboxes have. I don't know if they can … because I know they connect to a base station, but then they feed in … The way we use it, it feeds into a sound system, but that sound system eventually ends up in Zoom. It's because we have the sound system feeding into our computer through the 3.5 millimeter plug, but maybe that's an option for folks, the Catchbox, or there's also a ball version of that.
Brian Norton:
I forget what that one's called, but those are things that you can kind of throw around to different folks. It mutes it while it's in the air. Once they catch it, they can just kind of hold it up toward their mouth, be able to answer whatever questions and then pass that back to somebody else or give it to somebody else. Now, in the world of COVID, I'm not sure you're going to want to pass that around to too many folks, but I would assume that kind of a wireless might work as well for folks. So, look up Catchbox too. That might be something to kind of consider as well.
Belva Smith:
The reason that I found this kind of a hard question to answer is because this is not something that I have personal experience with. My short answer would be to do what I did, which is to go to Amazon and just put in Bluetooth interview microphone. You'll get some that will be karaoke style microphones, but you'll also get locks that are specifically for interviewing. However, I think what this person really wants to know is, hey, which one have you used? Which one's really good? Because it could be a cheap microphone and still be awesome, or it can be a really expensive microphone and not be very good at all. This might be an good opportunity for this individual to look for their local AT Act. For us here in Indiana, that would be INDATA.
Belva Smith:
Tracy, I'm still on your spiel here, but to maybe get their hands on some Bluetooth microphones so they could actually see what kind of sound quality, battery life, that kind of stuff that they're going to get out of it. I think it's one of those things, until you've actually talked to somebody who does this regularly and has used a bunch of different ones, or you get your hands on them, it's hard to say which one's going to be good. Also, I think it has to do with what kind of an environment you're going to be in. If you're in a quieter environment, you can probably get by with one that may be a little lesser quality rather than … do you remember we did … We had that individual that did interviews for us during one of our conferences where there was a lot of people there and a lot of background noise. For something like that, you would probably need to look at a more expensive or a better quality.
Brian Norton:
Another place I would have folks maybe contact and talk to would be a place called Harris Communications. That's harriscomm.com. Whenever I have a microphone or a headset question, they do a really great job of talking with you on the phone, their customer service is great. Explain the situation that you have going on because there's a lot of nuances. You could be in a classroom, you could be out on the street doing interviews. Different microphones are to be useful in those different situations, and so explain the situation that you have very specifically to them, and hopefully they can then match you up with a microphone that might work well for those folks. Think about that, harriscomm.com, which is Harris Communications. They do a lot for folks who are deaf and hard of hearing. That's really their specialty.
Brian Norton:
But they do have some pretty knowledgeable folks and might be able to steer you in the right direction when it comes to these wireless microphones or Bluetooth microphones so that you could connect it to either your iPhone, an iPad, or your computer and have those conversations when you're kind of the man on the street kind of situation that we're talking about today. They might be able to hook you up with those. But I do think Josh, what was the name of the one that you mentioned, Alead? Is that right?
Josh Anderson:
If that's how you pronounce it, it's A-L-E-A-D, and it's the Nolan MIC2.
Brian Norton:
The Nolan MIC2. Then Tracy, you had a few as well. Can you tell me those again, just to make sure our listeners caught those?
Tracy Castillo:
Yeah. Well, my personal favorite is just my wired Logitech headset. I purchased one through Amazon. Just wireless microphone. It came in different colors. You can get a pink, gold, blue, black. Mine's black. Black and gold, it's pretty cool. I just looked it up again. It's like 17.99, and it works fine. I don't have any issues with it.
Brian Norton:
Yeah. Then Belva, you had a couple as well, is that right, if I remember?
Belva Smith:
Well, yeah, I mentioned two different models, I guess, of the Movo, M-O-V-O. The more expensive one was $120. It does say that it is compatible with a lot of different devices. The cheaper one was $50, and it was the one that had the omnidirectional handheld interview microphone. That's the way they're putting their spiel out there for that one, but it did have four stars and most people were satisfied with it.
Brian Norton:
Nice. Just one other one that just popped into my head, and because we're talking wireless, depending on the device you're using and what you're actually connecting it to. I know we've had some experience within our Clinical AT department using the I MIC, which is just an eye mic that used to connect. Again, if you have an older device, it's very device specific, but when you had the older iPod touches or the older iPods that actually had an audio jack on them, you could actually take this I MIC, it's just a little microphone that seats on the top. You plugged that in. Depending on what you're recording into, you could use that and be able to pass the actual device back and forth between folks. It's not a Bluetooth microphone, it's an analog microphone with a 3.5 millimeter jack that plug into the audio jack of whatever device you're using, but you could then actually pass the device back and forth and have them speak into it.
Brian Norton:
But again, it's not Bluetooth, it's not specifically what we're looking for here, but it might be an option for folks as well. I would love to open this up to our listeners. Our listener line is (317) 721-7124, or email address is tech@eastersealscrossroads.org. If you have experience with Bluetooth mics, whether using iOS or Android, let us know. We would love to have a good answer for folks when they call with this type of question. Let us know. Thanks. All right, so our next question is, any recommendation for techniques or guidelines for how to clean devices during this pandemic? Interestingly enough, that is something that we've talked about, I think before on the show, and we've also created some resources on our website, because really, in this global pandemic with COVID-19 and all these different precautions that people are taking, really, we put ourselves at risk wherever we go, throughout the day, all the bacteria we might touch.
Brian Norton:
Whether we're going grocery shopping on grocery carts, whether we're at the gas station and we're pumping gas, we're opening doors, closing doors. It's really easy to be able to transfer things from those things, to our phones and our other devices, keyboards, mice, everything that we touch throughout our day. Thinking about sanitization and cleaning, and I think those are two different things. Cleaning is one thing, sanitizing and disinfecting is really another thing. I think we have to look at those things in that way, are really kind of an important thing to be thinking about these days, because we all come in contact with lots of different technology where we're out and about again, touching different things and whatever our hands touch, we put them on our phones.
Brian Norton:
In fact, I read something that said, maybe our phones are some of the dirtiest things that we're around every day. So, being able to clean your devices is super important. Great, great question. Thoughts on that?
Tracy Castillo:
Well, my favorite thing right now is alcohol wipes, and I have a little tub of alcohol wipes. They're kind of like the Lysol wipes. When you pull it out, you get little sheets, like three foot or three inches by six inches. It's a nice size. It can wrap around my phone. Right now, they're in my car because I've worked out in my car recently, but if I'm questionable on something, or if I'm getting a device back from somebody, I'll wipe it off with that real quick. It's nice, it's convenient. The ones I use don't have a real strong smell to them. It's just something nice and you could use it and probably not offend anybody anymore.
Brian Norton:
Right.
Tracy Castillo:
Now, when I walk into the studio to do a podcast after Josh, now, that's where I pull out the big wand. I use the UV wand and go over things like the microphone, because you can't put a wipe or a spray on a microphone. It's porous, so you would use the wand, the UV wand. I found those very nice.
Brian Norton:
Yeah, those are super helpful.
Josh Anderson:
They make a couple of them. A couple of companies that kind of get on this. There's one PhoneSoap, I think for your phone that you can put in, I believe it uses UV and maybe some other kind of ionized air magic, whatever you want to call it, that they use to clean it off. Then SoClean also makes a device cleaner. They're a company, I don't know, I've seen them on late night infomercials where they sell things to clean C-PAP machines, but now they actually have a big case that you can put your devices in, and they'll use … I can't remember what kind of, but something to destroy 99.999% of everything bad for you, I think.
Brian Norton:
Yeah. I think something important to note just about disinfecting or sanitizing your equipment is really, it's not … I think this is maybe one of the most misunderstood parts of disinfecting. You can have Lysol wipes, you can have alcohol wipes and those kinds of things, and you could wipe things down, but it's not necessarily just the wiping of them down, really the amount of contact time determines its effectiveness, right? You need to leave that surface wet or a period of time in order for whatever disinfectant solution, whether that's the Lysol wipes that you're using, alcohol wipes, you have to have that stuff, the device itself has to be wet for a period of time for that stuff to be effective for it to actually kill the bacteria. You can't just simply wipe it and be done.
Brian Norton:
A lot of times, what we would end up doing in our loan library is wipe it down and leave the cloth on top of the device for a few seconds, or not even just a few seconds, even a few minutes, to let it stay moist in order to be able to clean that stuff off. Now, you also have to be a little bit careful. Electronics are electronics, and you don't want to get a lot of liquid back in the back end and make your device ineffective and maybe mess up something in the background. Be very, very careful. I think, again, I mentioned it earlier on, cleaning is something that's a little … it's different, it's a different step. The first step in cleaning is really just removal of soil from all your devices.
Brian Norton:
If you've got junk on them, wiping them down to get rid of the soil, and then you need to go back in and then actually disinfect it with a Lysol wipe. Just be careful when you do that stuff. These are, a lot of times, electronical devices, and there's some things you should consider when you're doing that. The first thing I would always is always talk to the manufacturer or consult the manufacturer care instructions. Every device you get comes with care instructions. Look at those care instructions. Decide, or a lot of times, there's information about what kind of materials can be used to clean devices on those care instructions. When you're cleaning something, don't leave a lot of extra moisture on things like disinfectant wipes. Wring them out before you put them onto your device. That extra moisture is what gets down into the cracks, would cause damage to your device.
Brian Norton:
So, keep it from seeping into it by wringing it out before you start using it. The other thing I would always say is be gentle. Don't use excessive force when you're cleaning electronics as this may also cause damage to the device. A lot of things to be able to think about and just be reminded of as you start to clean your devices as well.
Tracy Castillo:
Brian, can I add a time to that? I just looked it up. CDC says, with 70% isoporic alcohol, you should leave it on the surface for 30 seconds. I will wipe my phone and sing that washing my hands song twice.
Brian Norton:
Exactly.
Belva Smith:
I've actually had clients ask me this kind of question, and notice I was even kind of quiet as you were going through all this. I'm very cautious. Because number one, I believe that that is what happened to my key fob at work, because I was using the alcohol wipes on it. I believe that deactivated it. I have also had the experience where I was … this was many, many, many years ago, had a laptop and thought, wow, that screen looks really dirty, let me put some Windex on there and make it nice and shiny. Yeah, needless to say that totally destroyed the laptop screen. I think it's very, very important to be cautious whenever you're putting alcohol or any of these Clorox wipes on any of your electronic devices.
Belva Smith:
Brian, I think you said be careful to not get it too wet. If I understood correctly, you got to kind of sop it for it to really work. The same thing with your hand sanitizer. If you just kind of lightly do it, it's a different effects. I don't know. I just say to everybody, be careful and wipe it down with whatever you feel comfortable wiping it down with. I personally have not put alcohol on my cell phone because I'm just sure that that can't be good for it. I'm just sure it can't.
Brian Norton:
Yeah. When I say remove the extra moisture, what I'm talking about is, if you're cleaning a keyboard, I wouldn't have it sopping wet, because there's obvious crevices and other kinds of things that that moisture is going to seep down into. But if you're using it on your phone, those are pretty air tight, if you will. I'd be careful. I wouldn't have it sopping wet, but I think you could have a little bit more moist to be able to use it on some of those types of things. But if you've got obvious devices where there's a lot of crevices and there's ways to get back into the back end of that device, I would make sure to get rid of the excess moisture in those cases. Tracy, were going to say something?
Tracy Castillo:
I was going to say something. I was at the Walmart the other day, and over by the electronics area, they had kind of like the phone sanitizers. Looked like a little book, and you just put your phone in it and you close it. Didn't catch the price, but to put where it was, it was probably around $30 or so. I know the device Josh mentioned was, the SoClean one was over $200, is when I saw that.
Brian Norton:
Oh wow. Okay. Yeah. Ultraviolet, both Josh and Tracy, you both mentioned this. We do have ultraviolet lights. We actually have 401s. We also have now a cabinet that is supposed to do some disinfecting for us, and so we do place our devices in, so within our loan library for the INDATA project, we're really careful. Ever since COVID 19, well, even before that, we always had sanitization process with our equipment because we are loaning it out to people, and when we get it back, we make sure it's clean, put back into the library so that when someone else borrows it, it's nice and clean for them. What we've done to kind of with COVID-19 because we needed to take some extra precautions, we've added UV as another way to disinfect our equipment. Again, that cabinet and those 401s, I'll be the first to admit, I did a lot of research on this stuff when I first started looking at things.
Brian Norton:
There's some varying opinions on its effectiveness on how well it does actually disinfect and clean stuff. But I think we have found enough information that says it is an effective way to clean devices that we did add some stuff in addition to all the other sanitization and cleaning procedures that we have to make sure that we're doing the very best for our clients and for the equipment that we have in our library. You'll find varying degrees. PhoneSoap, you said is a couple hundred bucks. We bought these UV lights, they were $80 or $90 a piece. Those little wands were $80 or $90 a piece. The cabinet we bought was 800 bucks. Then it's kind of a, I don't know, what? It's a 30 by 40 cabinet. It's got a timer and a lock and you can set the timer, lock the door. Then when the timer off, the door unlocks for you. You can get in and get those devices out.
Brian Norton:
It's got some shelves for you to place multiple devices in it. But something to think about to be able to add to your repertoire, if you do handle a lot of different types of technology, there are some devices out there that can be helpful for folks. Well, I'd love to open this up. Maybe folks who've had some experience with this. We've all probably had lots of experience with this over the last several months. If you want to send us any techniques or guidelines that you guys have been following during this time, we'd love to hear from you. You can do that on our listener line. That's (317) 721-7124, or send us an email at tech@eastersealscrossroads.org. Love to hear from you. Thanks.
Brian Norton:
All right. Our next question is I'm looking to purchase two laptops for my kids who have dyslexia. I am personally an Apple user and prefer Apple products. But as far as accessibility and AT options, what is your opinion on Apple versus PC? I'll just kind of open this up to the group.
Josh Anderson:
I'm going to start with a little bit of a different kind of way to take this. It depends on if your kids have experience using computers or not. If they don't, and you're comfortable using Apple products, then I would say, probably get them Apple products. Otherwise, you're going to have to learn how to do everything on PC also. With dyslexia, so probably some of the issues are reading, writing, some different stuff like that. The dictation that's built into Apple products, into Mac books is really good. It does a great job of understanding what you're saying, putting it there on the screen, so it can really help with that. Then some of the speak screen and other features that can read back to you are very good on Apple products.
Josh Anderson:
So, some of the built-ins are pretty good, but the ones on Windows aren't that bad either. I guess it kind of depends on what all you want them to be able to do on there. Software's almost the same between the two. There's a few exceptions, Dragon, which is a really good text or speech-to-text software is only available on Windows now. It's no longer available on Mac, but then a lot of other things, they're about the same price and about the same features. Really, and truthfully, again, if you're much more comfortable with Apple, if you know how to use it better, and if you're going to have to teach these kids on how to use it, I'd say stick with what you know, and it's going to save you a lot of time and headaches.
Tracy Castillo:
I'm just going to put out my preference. I prefer using the Apple devices. When I was using the Windows devices, I seem to have to learn a new trick for each different software program I was in. With Apple, I can highlight anything and ask it to speak it to me, so I prefer the Apple product.
Brian Norton:
Yeah. I would agree with both of you guys. As far as Apple products, I mean, what I do like about Apple products is it's built, so that speech component that Josh was talking about earlier, when you want it to speak, maybe a document to you or PDF file to you, that's often just right up there in the menu system. I think if you go under edit, or maybe one of the other options up there, you can go ahead and just tell it speech, and then it'll go ahead and start talking everything that's on the screen. On your iPhone or other products, iPad, same kind of thing. It's all built in, so it's easy to find. Then, with Windows, I think they really have great tools. There's great tools, more and more is getting built in. Narrator's a lot better than it used to be, Windows narrator. If you're looking for a text-to-speech program, I think narrator's a great program for that piece of the puzzle for folks who have dyslexia.
Brian Norton:
Really, the built-in speech recognition software is pretty good. I do know, and that's for Windows, it's pretty good. It's been around there for a long time. They've worked a lot of bugs out. It does a pretty good job. I have some folks who prefer it on Windows to use the built-in speech recognition instead of Dragon. Although, I would always argue that Dragon is by far the best speech input program recognition program that's around. Although, I have been very, very impressed with Apple's new voice dictation. All that they've allowed you to do, by now being able to control the computer. They've opened a lot of doors for folks. I don't know, I say that's a real tough question, because things push each other.
Brian Norton:
You talk about the old Apple versus Android with accessibility, kind of same question. Well, I would have argued, probably five years ago that I would go with Apple, but not anymore, not if you're more comfortable and already use Android. I don't want to change what you already know. I just want to add a couple of components to it, but that's a really good question about what to use. I think one thing that I would do and that we often talk about is I would reach out to your Assistive Technology Act program in the state that you're in. You can go find that at eastersealstech.com/states. Talk to those programs. A lot of times those programs will have a loan library. In that loan library, you can borrow devices if you want to try something out for a little bit. See what might work better, see what your kid prefers to use.
Brian Norton:
If they prefer to use Windows, if they prefer to use Mac, keep them in there, let them try those things. See what they think. I would always argue that user preference rules the day. So, if you can find something that is intriguing to somebody that they want to use, you'll always be more successful in the long-term versus trying to put something in front of them that they're not fully sold on. So, try it out before you purchase anything and using your Assistive Technology Act to do that is a real easy way to do that. Again, that's eastersealstech.com/states. That's going to take you out to the AT3 Center, which is the national technical assistance program for all of state AT programs, and then you can go ahead and search for the local contact for your local state AT program, and they'll be able to help kind of hook you up with that technology, to let you try it out before making a decision on what would be better for folks.
Brian Norton:
But I think that, that is the answer to the question. I think the accessibility and the AT options, whether it's Apple versus PC, you're going to be balancing … That's a balancing act, because really, the accessibility and the AT options are there on both devices. It's just, what do you prefer with those?
Tracy Castillo:
If we're going to talk about price, I think that we should look at the Windows devices first. Thanks, Josh. Josh is laughing at me. I've been talking with my microphone up in my hair. Yeah, you're going to notice that the Apple devices are a little bit more pricier than the Windows devices. I just think that if it's personal preference, one thing, but if it's a budget issue, then you might want to go with the Windows.
Brian Norton:
It's a really good point. Apple devices are more expensive, just in general than it would be with a Windows device, or even a Chrome device at that point. So, great, great point. Well, I'd love to open this up to folks who are listening, talking about the accessibility and the AT options, Apple versus PC. This is specifically in reference to kids who have dyslexia. What about the AT options that are on Apple versus PC for them? I'd love to hear your opinion. If you can give us a call on our listener line, that's (317) 721-7124, or you can send us an email at tech@eastersealscrossroads.org. We'd love to hear from you. Thanks so much.
Brian Norton:
All right. Our next question is my child cannot read or write. Are there apps for a Chromebook he can use to read him as homework and a dictation app that he can do to write for his homework so that what he says is what is typed? I'm all opening this up to the team, basically can't read or can't write, and looking for Chromebook apps or extensions that they might be able to use to help with that for his schoolwork.
Josh Anderson:
What I've done in the past, and I've actually had this come up with an individual, and it was a little bit different because their job, they had to access Gmail and some other things kind of, not on a Chromebook, but through Chrome, so kind of the same accommodations would work. They couldn't read or write, didn't affect the rest of their job, but it did this kind of part. We used this, there's one called Read Aloud. It's a Chrome extension. It looks like a little kind of a megaphone kind of thing. I've had really good luck with it reading pretty much anything. Considering they're using Chromebook, I'm assuming all their homework is probably online, so hopefully it should be able read anything that you have open in that Chrome browser.
Josh Anderson:
It does a good job. It also, usually for most things, it moves it to a whole nother box, and will actually kind of highlight the text as it goes along. So, it can even have a little bit of kind of read along help as well, which can help with understanding and other things. Then what we used for the dictation part was just Google Voice, which is built-in. I think you may have to enable it for certain programs, but if you're using a Chromebook, again, I assume you're probably using Google Docs or something like that to complete homework and things. If you're using anything in the Chrome browser, again, you can use Read Aloud, and then just use that Google Voice. You do have to be connected to the internet for Google Voice to work, but you have to be connected to the internet for really anything on a Chromebook to work, I guess. It's probably not a big problem, but those two I've had really good luck with both of them, and they're both free.
Brian Norton:
Yeah. Those are going to be the first things that I would mention, the built-in accessibility features because you don't have to look for them or download something new or interesting if you go. I believe on Chromebooks, if you go to the system tray, which should be somewhere over on the bottom right-hand side of the screen, you'll be able to kind of bring up a menu to get to your accessibility features and find that feature that Josh was explaining, the Read Aloud and that dictation tool, Google Voice as an option for folks. If you're looking for something a little bit outside that box, there's a couple of other ones. Again, it probably goes to the severity of the need. There is something called Chrome Box, but that's more of a screen reader. I've used Chrome Box with folks before. That's an extension you can download. It reads everything, but it also kind of messes a little bit with how you control the computer.
Brian Norton:
So, it becomes more of a keyboard-driven device and not necessarily a mouse-driven device. Chrome Box, check that out. Another one is Speechify, is an extension that I've heard a lot about. Read & Write is an option, but you do have to pay for that to get some of the more advanced features. Read & Write Gold is an app or an extension that you can download to Google. ATbar, A-T-B-A-R, is another one that I've heard a lot of good things about. Then Snap&Read, which is made by CoWriter. That is another one, that is a pay for version. You have to pay for that. I'm not sure exactly what their pricing structure is. I do think Read & Write is kind of a subscription base, so you pay for a year, but then Snap&Read, I can't remember if that's subscription-based or it's based on the number of conversions you do.
Brian Norton:
Essentially, with Snap&Read is you basically draw a box around what you want to have read to you. Once you draw all that box around it, converts it and then would then speak it to you. It's just a different approach there, but I've heard a lot of great things about Snap&Read as well. One of the things with our program, we don't do a lot with Chromebooks. Chromebooks here, in Indiana, seem to be a lot of … we do have a lot of K-12 school districts using Chromebooks for their students. But oftentimes, as students transition from high school into college, we see them transitioning to either Windows computers or Mac computers. They don't typically, as far as I think, or understand, a lot of those Chromebooks go back to the schools or they stay with the schools, and then they get purchased either through VR, or they personally purchase a Windows computer or a Mac computer.
Brian Norton:
We don't do a lot with Google Chrome, although we're doing more, and we are finding that, at least for my kids, I live in a household, our school district does use Chromebooks. My daughter is going to be going off to college next year, and she is dead set on getting a Chromebook, because she loves the touch screen feature, and basically has heard from a lot of her friends, and a lot of folks are … a lot of these kids also, they're starting to bring Chromebooks to college. I'm hesitant about that, because I think there's some drawbacks to it, because when you get out into the workforce, you're probably going to be using Windows computers, but more and more we're seeing companies go to the free stuff, so where they're using Google Docs or Gmail as their work email, and those types of things.
Brian Norton:
I don't know. I don't know where that's all going, but I've been very impressed over the years with the way that Chromebooks have become more accessible. They do have their own built-in accessibility and AT tools, but there's a whole slew of extensions and other things for folks to be able to take advantage of as well when it comes to Chromebooks. I think you'll be pleasantly surprised if you do use a Chromebook about what is out there for folks. In this particular situation, who can't read, so being able to select texts and have it read to you, or scan texts and have it read to you, and then also write, so having it dictate so that you can talk to the computer and have it type for you as well. Lots of different options there for folks.
Belva Smith:
I think it's worth mentioning to this parent too, because the question is specifically, what can read the homework for her child? It depends on the format of that homework. I was looking through the list of things that you guys all recommended there, but if, for example, there's a worksheet or something that's been scanned and saved as a JPEG, nothing's going to read that. That may be a conversation that you might have to have with the teacher as well, because the format is going to matter. I definitely would make sure that you explore that before you make a decision about whether an app may or may not be good, because it may be that the app is perfectly fine, but the content you're putting into it is inappropriate.
Josh Anderson:
Well, I think that brings up a good point, Belva, to kind of work with the special ed department or whatever, the school. A, you'll probably need … if you're going to put any aftermarket apps, or anything like that, you're probably going to need their okay to be able to do that. Sometimes even just enabling those accessibility features will be locked down, so you're going to need them. But also, just to make sure that everything that they're getting is in that accessible format also. So, a really good point.
Brian Norton:
I'd love to be able to open this up to our listeners. You can do that in a variety of ways. You can give us a call on our listener line. That's (317) 721-7124, or send us an email at tech@eastersealscrossroads.org. Again, for this particular situation, we're looking for a Chromebook app or extension or a add-on that can help with reading or writing. Let us know if you've come across anything that's been useful for you or for some of your students. Love to hear from you. Thanks.
Brian Norton:
And now it's time for the wild card question. All right, so our next question is the wild card question. This is a time where Belva's come up with a question that we haven't had any time to prepare for. Belva, what do you got for us today?
Belva Smith:
I have one that doesn't take much prep. It's really just about thoughts. Apple just released their new iPhones. It's my understanding they gave us three different ones to choose from. What's your thoughts on, so it's my understanding we have the iPad Pro … oh, I'm sorry, the iPhone Pro 12, the iPhone 12, and then the iPhone 12 mini. From what I've been able to see, they're pretty much all alike except for the Pro 12, but what's your thoughts? Do they really need to keep producing two or three new phones every … what is it? Every year now?
Tracy Castillo:
To stay relevant in the game, I think they do.
Belva Smith:
I don't know. I think at some point, one new one a year is enough for all of them.
Josh Anderson:
Well, I was going to say, I'm not real sure, but you've got to think, Samsung started their Galaxies, what? After the iPhone, and they're on like 20. I mean, they're putting them out two a year [crosstalk 00:52:24].
Tracy Castillo:
Wow.
Josh Anderson:
But no, I'm not jumping up and down or super excited. It's got a little bit faster processor, the cameras may be a little bit better. They squared it off again, so it looks like a five, I guess.
Tracy Castillo:
Yes. They brought back the squared off edges.
Josh Anderson:
Yeah. But I mean, other than that, I don't know. I don't see any need to pay the $500 to $1,000 depending on which version you're getting.
Belva Smith:
Yeah. They do got a better processor obviously then … and now I believe it's all Apple hardware. Or am I wrong about that? Their Apple chip is for the computers, not the phone, is that correct? I think that is correct, but no, from what I could see, they were all pretty … all three of them are pretty much the same with the one exception for the Pro, but the size. I think people will be excited to see the 5.4 screen size, especially my clients, because I know a lot of folks feel like those bigger screens are … they're pointless if you can't see the screen. It's easier to drop the smaller phone in your pocket or your purse than it is the larger screen size.
Tracy Castillo:
Yeah. With a smaller screen size and with the squared off edges, aren't they just recycling the iPhone five and with new internals and a new screen?
Belva Smith:
Absolutely. I think, honestly, that happened because they had a demand for smaller size. I believe that there was a big demand for the users that were asking for it, and I think Apple listened and … because I can't think of any other reason why they would have brought back, we'll say, that smaller screen, because all the phones are just getting bigger and bigger.
Tracy Castillo:
They are getting bigger and bigger. Like you, I've talked to people that don't like the big screens. They think they look silly, and that's the reason why they're holding onto their eights right now. It's because they don't want a big phone.
Belva Smith:
Well, that and their home button. I don't want to let go of that.
Tracy Castillo:
Oh, I know, the home button, and I'm not really a fan of the face recognition, especially now in a time of age where you cannot do it with your mask on, has anybody successfully figured this out?
Belva Smith:
Well, no, you simply can't. Recently, I was setting up a new iPhone with a consumer who has artificial eyes.
Tracy Castillo:
Oh, okay. What does that do?
Belva Smith:
Absolutely cannot do facial recognition. Would not recognize her face no matter what we did.
Tracy Castillo:
I hope you hear this Apple. I haven't upgraded for my seven because of the home button. I find it a lot easier. I know we're not allowed to drive and look at our phones, but if I'm at a stop sign, I could just hit the home button and turn my phone on real fast just to look at it. But it's a lot more dangerous if I have to stare at my phone for two, three seconds to get it to open up.
Josh Anderson:
Technically, aren't you staring at it when you're looking at it after you touch the home button?
Tracy Castillo:
Well, if it's over to the side, it doesn't seem to pick my face up, but thanks, Josh. Thanks. Love these guys. No, if I'm just going to give it the side eye and I hit the button, it opens up, my phone is starting to recognize my mad face, because I tried to turn my phone on with my face, and I'm like ugh, turn on.
Belva Smith:
What I'm gathering then is nobody's rushing out to hop in line to get the new iPhone.
Brian Norton:
I'm not. Really, I've had an issue with this for a long, long time. You spend so much money on a device, and then six months later, they come out with a new one, and then there's these long lines that form for the newest and latest. Really, to be honest with you, I've gotten to the point where yes, it's faster, yes, it may have one more megapixel to the camera, but really, how much time does that save me? I think the cameras are so good so that if you're blind or visually impaired, and you're trying to kind of either do product recognition or document recognition, you're going to be fine. It's going to do well with whatever cam you have. Maybe the last three, four or five versions of the phone, it's going to be fine. It's going to be able to do that well for you.
Brian Norton:
I would just argue that you're spending a lot of money that you probably don't need to, and you just might want to wait a few years before you upgrade when your phone starts to slow down and you're starting to have real problems with it, instead of continually upgrading, upgrading, upgrading because it just happened so fast.
Belva Smith:
Well, and I think there for a while, with the new releases, we could get excited because it seemed like there for a while, they were bringing something new that was going to help our clients.
Tracy Castillo:
Innovation was changing. It seemed like there was something big, but …
Belva Smith:
Yeah. That just doesn't seem to be the case anymore. It's just like, everything remains the same, maybe a little bit bigger, a little bit faster. They're offering services that we can't even get yet because it's not available. It's like the 5G or whatever isn't available, but yet they're saying the phones got it. The same thing with the video, it's just like, what's the point? Give me something that will benefit me here and now.
Josh Anderson:
Yeah, and I think that's about the best advice you can really do. If a new phone comes up and it's got some great features that are better than the phone you have, then yeah, go ahead and get it. But yeah, like you said, if it's a little bit faster, hey, if I can download a whole movie from Netflix and four seconds quicker, or one more mega … who cares. It's not that big of a deal really to me, to have that newer … but I'm old, so maybe that's the difference.
Brian Norton:
Correct. Well, and I think a lot of times for persons with disabilities, the most important thing they can do is they wait for the iOS update. They're waiting for the software, the operating system update. They're not really needing anything more mechanically or technology-wise out of the phone. They just want the new added features that they're building into the operating system. Essentially, most of it's software related. It's not necessarily hardware related anymore because the devices are so powerful. I still don't really even think about what I have my pocket all the time. I've got this phone that can do a million things. There's more technology in your phone today than what they probably had when putting an astronaut on the moon several years ago. It's fascinating and humbling to really realize what we have available to us at our fingertips with accessibility and technology-wise. Really, it's not a hardware question anymore for me, it's more of a software question. What are they going to come out with in their updates, with their operating systems? Great question.
Belva Smith:
Definitely. My phone today is way more powerful than the very first computer I ever had.
Brian Norton:
Right. We'll see, and I would love to hear what other people have to say about this question, what they would think about what's new with the new iPhone 12. If give you guys want to give us feedback, we'd love to hear from you on that. It's (317) 721-7124 for our listener line, or you can send us an email at tech@eastersealscrossroads.org. Love to hear from you. Want to take an opportunity to just to say goodbye to the folks who are here. Give them an opportunity to say goodbye to you. Tracy, I'll go with you first.
Tracy Castillo:
Bye everyone. I hope you download us and listened to us week after week. Thank you.
Brian Norton:
Excellent, and then Belva.
Belva Smith:
Thanks for listening, everybody.
Brian Norton:
Then Josh.
Josh Anderson:
Thanks for listening, everyone. Can't wait to see you next time.
Brian Norton:
Excellent. Well, that's our show for today. Want to make sure that you guys are able to reach out to us. If you have questions that you would like to submit to our show so we can do our best at trying to answer those questions, please do so. You can give us a call on our listener line. That's (317) 721-7124, or you can send us a tweet with the hashtag, ATFAQ, or you can email us at tech@eastersealscrossroads.org. Without your questions, we don't have a show, so be a part of it. Thank you so much. Have a great week. [inaudible 01:00:57].
Brian Norton:
It seems like every week we have at least one looper, so here you go.
Belva Smith:
What's going on with my Zoom. My pointer is only a hand, but I can't mute. Hopefully, nobody farts over here or anything because I can't mute it.
Tracy Castillo:
Gosh. I have answers on all of them.
Brian Norton:
I love that.
Josh Anderson:
That's sweet.
Tracy Castillo:
I'm not sure if they're right.
Belva Smith:
There are no wrong answers. Instead of there are no wrong questions, there are no wrong answers.
Tracy Castillo:
There are no wrong answers.
Brian Norton:
Information provided on Assistive Technology FAQ does not constitute a product endorsement. Our comments are not intended as recommendations nor is our show evaluative in nature. Assistive Technology FAQ is hosted and produced by Brian Norton, gets editorial help by Josh Anderson and Belva Smith, and receive support from Easterseals Crossroads in the INDATA project. ATFAQ is a proud member of The Accessibility Channel. Find more of our shows at www.accessibilitychannel.com.