This pandemic has left many people feeling lonely and socially disconnected.  Many rely on their computer or mobile device (like tablets) to connect with friends and loved ones.  However, some devices are too complicated for some users.  If you're looking for a tablet that is both smart and simple, check out the GrandPad Tablet!
The GrandPad Tablet is the "smartest, simplest, and safest way to connect seniors with their loved ones so they never miss another memory."  It is the first purpose-built tablet for individuals over 75 years of age.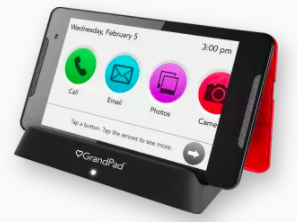 Unlike other tablets, GrandPad features only essential apps to eliminate clutter, so users can instantly connect with friends and family!  Built-in apps include:
Call – keep in touch through voice or video calls without the need for WiFi
Internet – safely browse the web through managed sites or with full access
Music – listen to streaming stations or search for your favorite songs
Help – connect with a specialist that's happy to answer all of your questions
Games – play over 15 fun and stimulating games which are specifically for seniors
Email – type messages or send hassle-free voice recordings to loved ones
And so much more!
The GrandPad Tablet is more than just a product – it is also a service.  Here's more info on it:
"The month-to-month GrandPad membership is all-encompassing, worry-free with no contract required. Every GrandPad membership includes easy access to our outstanding customer service specialists. Included & built-in wireless data connectivity means seniors are constantly connected to high-speed internet."
Through the free GrandPad companion app and web portal, friends and family can connect to GrandPad's private family network via iPhone, Android phone, iPad, or desktop computer.  Family members can even upload photos and adjust settings for the GrandPad user.
Overview of the GrandPad Tablet:
Smart, simple, and safe way to connect individuals aging-in-place with family, friends, and caregivers
Comes with several built-in features and apps making it more accessible
With this tablet, older adults will be able to:

Make unlimited voice and video calls to anywhere in the world
Share photos and videos with family and friends
Safely browse the internet
Enjoy music, games, and much more!

GrandPad subscription comes with your own private family network so family members can update phone numbers, contacts, settings, and more – from the convenient app or web portal
Click here to learn more!
View this week's Tech Tip on the GrandPad Tablet by clicking here!