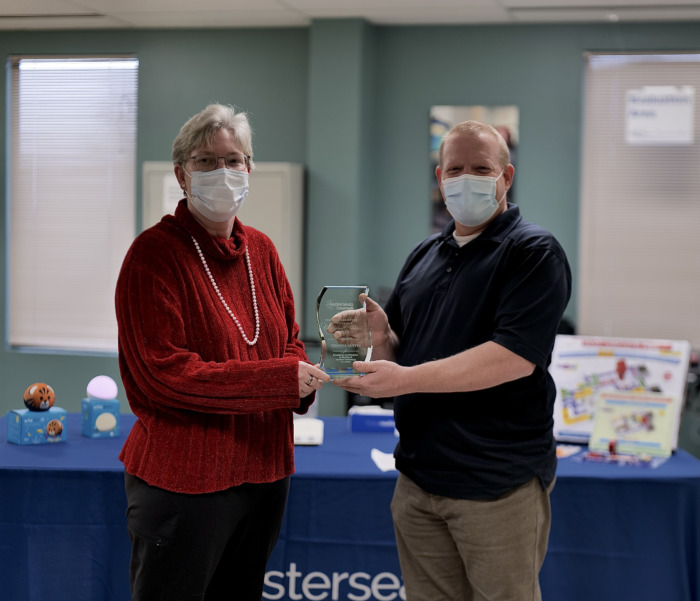 In 2017, we created the annual Assistive Technology (AT) Champion award, which recognizes an individual for exceptional contributions to the field of Assistive Technology in Indiana.  Recipients can be innovators, thought-leaders, trail-blazers, mentors, or cutting-edge technologists that positively impact the field of assistive technology.
Our 2020 recipient is Deanna Austin LSW, CVR, Visual Impairment Services Team (VIST) at the VA Medical Center in Indianapolis. She has worked at the VA Medical Center for over 11 years and her duties include being a care coordinator to over 600 veterans who have functional issues related to vision loss, coordinating a monthly support group and providing community education regarding issues related to vision loss. Deanna has over 25 years experience in working with individuals who are blind/visually impaired. Deanna is a Certified Vision Rehabilitation Therapist (CVRT) and a Licensed Social Worker (LSW).  She is a currently on the state board of the American Council of the Blind and a member of the Association of Vision Rehabilitation Therapists (AVRT).  Deanna is married and has 2 stepchildren and 2 grandchildren. She loves cats & dogs, traveling and reading.
Our staff has worked with Deanna for many years and know that she is a tireless advocate for people who are blind or visually impaired. Brian Norton, Director of Assistive Technology, at Easterseals Crossroads said, "I've always known Deanna to be an authentic "boots on the ground" kind of professional who is focused on making direct, meaningful impact in the lives of people who are blind or visually impaired.  Her humility shows up on Saturday mornings when she has led support groups, countless phone calls and emails to work through the details of the things people need to live more independently, and her calm, reassuring demeanor as she problem solves and encourages someone who is learning to accommodate their vision challenges.  Realistic, approachable, kind, and down-to-earth are some of the words that come to mind when I think of Deanna and the impact she's made in the field of Assistive Technology in Indiana."
We thank you, Deanna, for your dedication and kind nature you exhibit to everyone you meet and your continued work in educating veterans about assistive technology. You truly are an AT champion!
**Do you know an AT Champion you would like to nominate for the 2021 award? If so, click here to download the nomination form and let us know.**