Amazon is Earth's biggest selection of books, electronics, apparel, and more.  The company also offers a myriad of Echo and Alexa devices which help several people live more independently.  One of their newest products is their Echo Frames!
If you haven't heard of the Echo Frames yet, in sum, they are smart glasses with open-ear audio and Alexa.  According to Amazon's description, these lightweight, splash-resistant frames are made for all-day wear.  They are compatible with most prescription lenses.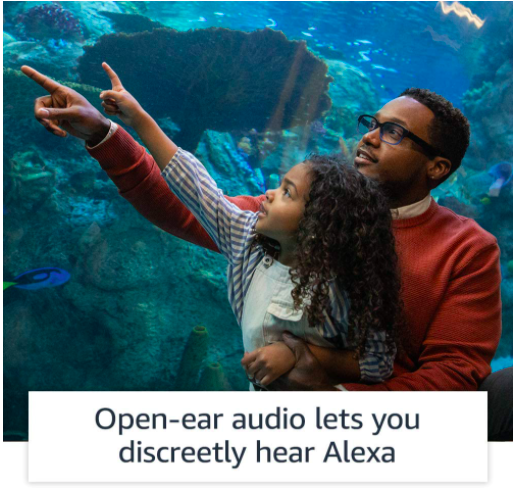 Here's more about the new wearable:
"Echo Frames give you hands-free access to Alexa. Now you can hear notifications and alerts, turn on compatible smart lights, or call a friend, all without pulling out your phone. They're designed to keep you in the moment—so you never miss one."
The glasses' open-ear audio feature directs sound to your ears, so you can discreetly access Alexa.  The glasses can automatically adjust the volume (dependent on your current environment's noise level).
A big concern with smart glasses in the past (e.g. Google Glass) is privacy.  The microphones in the Echo Frames are designed to protect your privacy.  They are made to respond to the voice of the person wearing the frames, and turn off with the double-press of a button anytime you want complete privacy!
Overview of Echo Frames:
Lightweight, splash-resistant, and compatible with most prescription lenses

These frames do NOT include prescription lenses; check with your eyewear professional to get prescription lenses for your frames
Share these instructions with your optician

Just ask Alexa to:

Make calls
Set reminders
Add to your to-do lists
Get the news
Control your smart home from anywhere
And much more!

Supports access to Google Assistant and Siri from a compatible device

NOTE: These glasses require a compatible Android or IOS smartphone and the Alexa app for connectivity

Get over 2 hours of talk time, Alexa interactions, and media playback over a 14-hour day

Or up to 4 hours of nonstop listening on a full charge

VIP Filter allows you to customize which notifications to receive from the contacts and apps on your phone that matter to you
Click here to learn more!