Looking for an on-the-go fidget for your toddler?  Check out Spike the Fine Motor Hedgehog Fidget Friend from Learning Resources.  This fine motor toy comes with six ways to fidget to keep those minds and little hands busy!
Learning Resources is a company that's been helping teachers and parents "build generations of amazing kids since 1984."  They offer educational toys that help kids build skills they need to succeed in school: from ABCs and 123s to fine motor and STEM skills.
With their Fine Motor Hedgehog Fidget Friend, children will have fun:
Spinning the wheel
Turning the crank
Pressing the button
Twisting the knob
Pushing the plunger
Moving the switch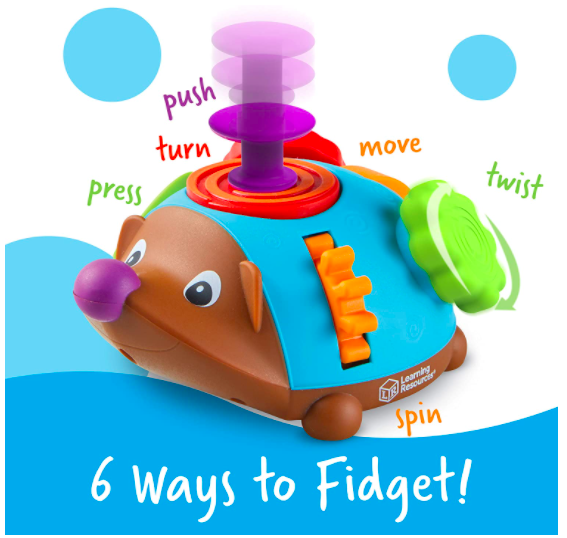 The toy is inspired by the company's bestselling Spike the Fine Motor Hedgehog, which helps children build fine motor skills with its chunky, peg-shaped pieces that fit on the back of Spike.  So in addition to building new tactile skills, the fidgets in this Fidget Friend also "boost coordination, hand strength, and other fine motor skills."  This fidget toy is compact making it ideal to take anywhere!
Overview of Spike the Fine Motor Hedgehog Fidget Friend:
Spike is a "fun preschool fidget friend that is always ready for tactile play!"
There are six ways to fidget: spin the wheel, turn the crank, push the plunger, press the button, twist the knob, and move the switch
For children ages 2 and up
Compact and durable making him the perfect on-the-go companion
The toy is specially made to help little hands build fine motor skills
Easy to clean: just wipe him down with a damp cloth after playtime is done
Click here to learn more about Spike the Fine Motor Fidget Friend.
Check out our blog on the original Spike the Fine Motor toy by clicking here.