A couple of months ago, I wrote about the BlindShell Classic, which is a cellphone for individuals with visual impairments.  If you or a loved one have a visual impairment and are in the market for a new phone, another available option is the MiniVision2 Cell Phone!
In sum, the MiniVision2 is a "big-button cell phone for individuals with vision loss."  With this easy-to-use talking phone, users can place calls, send text messages, and much more — using voice commands!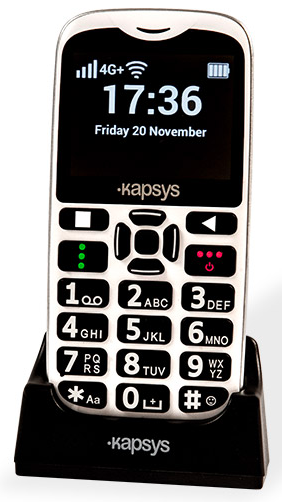 The phone will speak everything on the screen and everything you press.  The phone will also read items like caller ID, battery level, and more aloud.
Here's more about the accessible phone's physical features:
"MiniVision2 has large buttons that are well spaced. There is a prominent bump on the five (5) key that allows users to orient themselves. The buttons that control the menu system, and used to initiate and terminate calls, are different shapes and have tactile cues to assist the user differentiate between them.

For example, the Call button has three (3) vertical green bumps on it, while the end call button has three (3) horizontal red bumps on it. The different colors, shapes and tactile cues are thoughtful features for people with low vision. To further assist individuals with low vision, the keypad lights up when pressed."
Overview of the MiniVision2 Cell Phone:
Easy-to-use cell phone for individuals who are blind or have visual impairments
The phone supports a number of voice commands to make it "especially easy to perform basic tasks"

For example, place a call by saying "Call [name of the person in contacts]"
You can also send texts, add contacts, and more using voice commands

Features an SOS button on the back of the phone to trigger a call to emergency contacts
Other capabilities include:

FM radio
Color identifier
Money identifier
Voice memos
Calculator
Notes
Flashlight
Camera
Weather

Multiple languages and voices available
Click here to learn more!