Amazon has recently taken on the prescription delivery market with Amazon Pharmacy!  That's right: Amazon is officially delivering medications straight to your door.
Signing up for Amazon Pharmacy is super easy.  First, they'll ask the kinds of questions a doctor's office would ask on the first visit like your name, date of birth, contact preferences, insurance information, allergies, etc.  They work with most insurance plans as well as carrying both brand and generic versions of common prescription medications.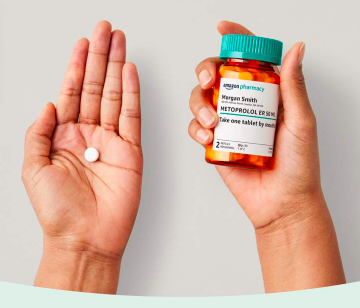 After signing up, you're all set to request your prescriptions!  There are two ways to get your prescription on file:
Contact your prescriber and have your prescription sent to Amazon and they'll start processing right away
Or Amazon can contact your prescriber for you (this process may take 2-4 days)
Here's more information from Amazon:
"Amazon Pharmacy is for customers 18 years and older, and works best if you fill at least one prescription regularly.

If you're getting a prescription from us for the first time, we recommend using your current pharmacy for urgent medications like antibiotics or medications you'll run out of this week.

If you take multiple daily medications, we also offer PillPack by Amazon Pharmacy, a service that sorts your medication into packets by date and time. To learn more about PillPack, please visit amazon.com/pillpack.

For more detailed information about medications we carry and how we handle refills, please visit the Help page."
Overview of Amazon Pharmacy:
Currently available in 45 US states.  The service is not currently available in:

Hawaii
Illinois
Kentucky
Louisiana
Minnesota

Prime members save when paying without insurance and get FREE 2-day delivery
Easily access all your meds, order history, and prescription details
Amazon pharmacists review your prescriptions for any interaction issues
Questions about your medication?  Their pharmacists are available for consultation 24/7!
Click here to learn more information about this service!
View our blog on PillPack by clicking here.