Looking for a new, affordable pair of earbuds to listen to music and more on your computer or mobile device?  Check out iLuv Bubble Gum Wireless Earbuds.
These earbuds seamlessly pair to devices using Bluetooth 5.0 technology.  Additionally, you can pair them to your device in one simple step: simply take the earbuds out of the case and pair them with "iLuvBBGTWS AIR" on your [mobile] device.  After they are paired, they will automatically connect to your device in the future.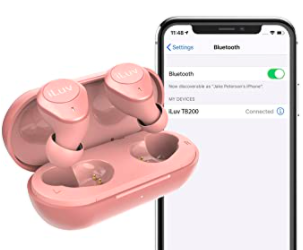 Here's more about the technology behind the earbuds:
"These true wireless earbuds employ the most advanced Bluetooth 5.0 technology to give you the best listening experience. Stable left-right independent signaling provide a reliable, powerful connection that's less sensitive to the interference that causes drop-outs and unbalanced sound.

Other features of this advanced BT 5.0 technology are simple and instant pairing, auto reconnection, improved connection stability and improved battery performance."
One full charge of these earbuds will deliver 6 hours of listening time.  They will provide an additional 16 hours of listening time with multiple charges from the portable compact charging case.  The charging case features LED lighting to indicate battery life as well as a magnetic attraction for easy earbud placement.
Other features of the iLuv Bubble Gum True Wireless Earbuds include:
Cordless in-ear earbuds with Bluetooth 5.0 technology
Easy to use:

Take earbuds out of the case and pair with "iLuvBBGTWS AIR" on your device
Double-tap either of the earbuds to play/pause music or answer/hang-up calls

When the earbuds are fully drained, 20 minutes quick charging will power up the earbuds for 2 hours of listening

One full charge delivers 6 hours of listening time
An additional 16 hours with multiple charges from the portable, compact charging case

IPx6 water-resistant

Earbuds and case are tightly sealed to endure heavy rain, sweating, or getting wet from spilled liquids

Can endure a minimum of 3 minutes of powerful jets spraying at least 100 liters of water per minute without penetrating the hardware

Ergonomic design "ensures comfortable fitting" to your ears with large, medium, and small sizes of soft ear tips on top of the ergonomic earbuds
Rich, high-fidelity sound experience with a good balance of bass and treble
Available in several different colors:

Black
Blue
Green
Rose gold
Gold
Orange
White
Red
Midnight green
Space gray
Click here to learn more about the iLuv Bubble Gum True Wireless Earbuds.