Individuals with visual impairments may often need assistance finding specific items around their home or office.  The PenFriend 3 Voice Labeling System is one potential solution.  According to MaxiAids, the PenFriend 3 is a "best-selling, affordable audio labeler for users who are blind or visually impaired."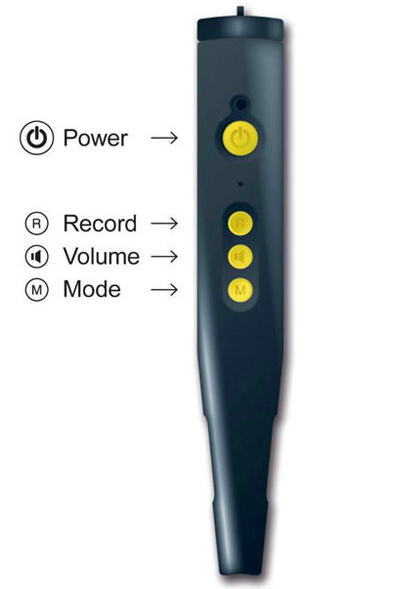 The PenFriend 3 Voice Labeling System allows you to label anything and everything with discreet audio labels all in your own voice.  This upgraded model of the PenFriend is a slimmer design than the original model and features 4 simple yellow tactile operating buttons against the device's black casing, making it more accessible for those with visual impairments.
Here's how to use the device:
"To use, simply allocate one of the coded self-adhesive labels, record and store your message on the PenFriend 3. To play back a recording, make sure that the PenFriend 3 is in the default Recording mode (red light). Touch any label with recordings and you will hear it played back. There is no limit to the length of each message. Auto power-off after 3 minutes."
Overview of PenFriend 3 Voice Labeling System:
With the PenFriend 3, you can:

Label food/freezer items, film/music collections, household objects
Organize letters and other paperwork
Record shopping lists
Leave audio messages
Use it as a portable notetaker at the office or classroom

Simply record your message and keep track of it by placing the allocated label in a small notebook

Comes with 8GB internal memory expandable to 16GB with SD card
Up to 250 hours of recording
Comes with:

127 colored labels
10 magnetic labels (great for use on tin cans)
1 key fob with 4 recording spots
Neck lanyard
1 tactile audio instruction card
2 AAA batteries

Use the backup features on your computer to save your recordings using a USB cable (not included)
Click here to learn more!