If you're looking for an app for your kiddo to practice early math and spelling on, check out TeachMe: Kindergarten.  TeachMe: Kindergarten is an educational app on iOS devices that teaches six different age-appropriate subjects.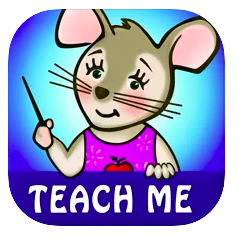 The app teaches subjects that align with US common core standards.  Subjects include sight words, addition, subtraction, spelling, and writing letters and numbers.  Here's more from Common Sense Media:
"TeachMe: Kindergarten does a great job of drilling kids on early math and spelling lessons — and making them fun at the same time. Math problems are done especially well, allowing kids to manipulate a number of objects onscreen to see how a math problem works in literal terms (for example, "2 + 2″ may be accompanied by two balls, and the child can pull two more balls out of a nearby bucket to then count all four together)…"
The app uses a sticker reward system to motivate early learners.  Additionally, children earn virtual coins for every three correct answers.  These coins can be spent on stickers or in the fish store found inside the app.
Overview of TeachMe: Kindergarten:
A simple and intuitive click-and-drag user interface is designed to be child-friendly, which allows children to play without help from an adult
Children are given verbal instructions and feedback by virtual teacher Mimi Mouse
Virtual aquarium reward allows children to purchase 4 types of fish and 40+ items
6 different sticker reward scenes: farm, beach, underwater reef, city, pirate cove, and playground
Over 150 different stickers for adding to scenes
Save learning information for up to 40 students
Select which subjects are visible for each student
Change the number of correct questions to earn a reward
Adjust the number of questions in a row to mark a question learned
Children will learn about:

Sight words
Addition (up to a total of 10)
Subtraction (from 10 down)
Spelling
Letter writing (letters A-Z)
Number writing (numbers 0-9)
Check it out on the App Store to learn more!