Last week I wrote about the VoiceZone 4-Alarm Medical Watch, which is a wearable that helps remind individuals to take their medications up to 4 times a day.  If you are looking for a watch to help remind you to take medications up to 8 times a day, check out the E-Pill CADEX VibraPlus watch!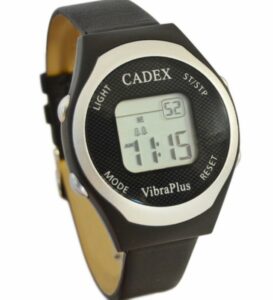 The E-Pill CADEX VibraPlus is a medication reminder watch that looks like a normal sports watch.  Wearers are able to program up to 8 daily alarms that auto-reset every day.  The face of the watch shows the current time.  The watch also features a stopwatch mode and a unique countdown timer mode.
Here's more from E-Pill's website:
"Originally developed for children with diabetes, the e-pill CADEX VibraPlus watch vibrates discreetly. The watch is not only for children – this watch style is for adults and teenagers!"
Overview of the E-Pill CADEX VibraPlus Watch:
Discreetly reminds wearers to take their medications with a strong vibration
Because it alerts users via vibration, this watch is ideal for individuals with hearing impairments
Users have the option to have the watch alert them via vibration and/or a sound alarm
Set up to eight alarms per day; alarms auto-reset every day
Key Lock feature prevents accidental changes
Countdown interval timer feature: long interval from 15 minutes to 24 hours with unique Auto Start
Features a backlight to make it easy to view the time day or night!
Click here to learn more!