I wrote about the Pocketalker Ultra Personal Amplifier all the way back in 2016.  Since then, a newer model has been released.  Introducing the Pocketalker 2.0 Personal Amplifier.  The Pocketalker 2.0 is the "highly anticipated successor to the Pocketalker Ultra."
The Pocketalker 2.0 Personal Amplifier features a modern, sleek design with several other noteworthy upgrades.  For example, it's louder when you need it to be (63dB versus 50dB) and it features its very own built-in microphone.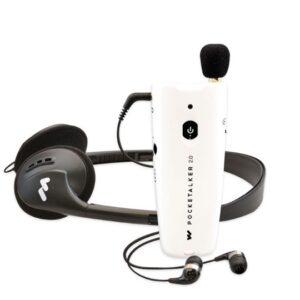 This slim, ergonomic amplifier helps users hear the sounds and voices most important to them.  It amplifies what they want to hear while reducing distracting background noise.
According to its description on Diglo's website, the device "couldn't be easier to use."  Users simply plug in the headphone or earphones, position the built-in microphone near the preferred sound, adjust the volume to their comfort – and start listening.
The device's developer is Williams Sound, which is "internationally known for its high-quality, innovative products."  The newest addition to the Pocketalker family is "sure to become your go-to amplifier for everyday listening situations."
Overview of the Pocketalker 2.0 Personal Amplifier:
A slim, ergonomic personal amplifier that helps users hear the sounds and voices most important to them
It automatically amplifies what users want to hear, while reducing distracting background noise
Easy to use: simply plug in the headphone or earphone to the device's headphone jack, position its internal microphone near the preferred sound, adjust the volume and start listening
Up to 63dB amplification
Balance control between left and right ear
Omnidirectional internal microphone with another omnidirectional plug-in microphone to enhance sound pick-up
Functions as a t-coil receiver in looped environments, meaning sound is sent directly from the device to a hearing aid with a t-coil OR to a neckloop (an optional accessory) for a "much clearer listening experience
Amplifies your TV sound with the TV extension cord it comes with
Also comes with:

Both headphones and earphones
3.5mm stereo headphone jack
2 AAA batteries
USB port for charging AAA rechargeable batteries (rechargeable battery kit sold separately)
12 ft. TV amplifying extension cord
2 AAA batteries
Belt clip
Lanyard

Up to 105 hours of use with 2 AAA batteries