Harris Communications has been "improving the lives of people with hearing loss for over 35 years."  The company has since changed its name to Diglo.  I wrote about their Pocketalker 2.0 Personal Amplifier the other day.  If you are in the market for an amplified phone, check out their Panasonic KX-TGM450S Amplified Phone.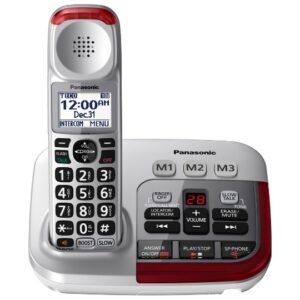 This Panasonic phone is reliable and easy to use and is ideal for individuals with hearing loss.  Speech is louder with 50dB amplification; it also features background noise reduction and tone control.  According to its description, "Fast talkers are better understood with slow talk control."  This unique feature "literally slows down the other caller's speech to make it easier to understand."
Users will always know when someone is calling because the Panasonic KX-TGM450S Amplified Phone also features a super loud visual ringer (112dB) that lights up bright red.
Overview of the Panasonic KX-TGM450S Amplified Phone:
DECT 6.0 technology for "improved range and superior transmission between base and handset"

50dB amplification

The answering machine can also be amplified

6 level tone control presets with customizable options

Noise reduction decreases background noise from noisy locations, making it easier to understand the person on the other end

Amplified speakerphone with tone control

15 different ringtone options

Call waiting/Caller ID

Talking caller ID, keypad, and phonebook

100 phonebook entries

3 memory buttons

English and Spanish LCD and talking caller ID option

Built-in battery provides up to 13 hours of talk time and 9 days standby

Mount on either the wall or desk

Hearing Aid Compatible
Check out Diglo's website to learn more!